October 11, 2021
SSTL to develop intelligent downlink architecture with InCubed co-funding
Timed to coincide with this year's Φ-week event, ESA InCubed and Surrey Satellite Technology Ltd (SSTL) have announced a new initiative to design and test a high-throughput payload downlink chain for small Earth observation satellites. The module aims to provide data processing and transfer capabilities that are future-proofed for tomorrow's onboard imagers.
Current and even more future satellite imaging payloads are generating multi-dimensional, high-volume data that can exceed the throughput capacity of small satellites. To tackle this data bottleneck, a consortium of the University of Surrey, Craft Prospect Limited and SSTL has been formed to develop product enhancements for the latter's Flexible & Intelligent Payload Chain (FIPC) solution.
The advanced hardware architecture of SSTL'S FIPC will provide the basis for a new intelligent and adaptive data downlink, along with a state-of-the-art framework for software-defined data processing onboard the satellite. Processing tasks may include data calibration, data compression, image thumbnailing and Machine Learning (ML) for image classification.
SSTL Managing Director Phil Brownnett set out the vision for the leading-edge payload chain: "The FIPC solution will significantly improve the capabilities of small Earth observation satellites by increasing data rates to match the capacity of the onboard imager system. This will boost both the volume and complexity of the data that can be downlinked on a single satellite pass – a step up in performance that will match our customers' business plans and ambitions."
SSTL, Craft Prospect Limited and the University of Surrey will work together on the FIPC solution and onboard processing applications. Following the design phases, the consortium will demonstrate and evaluate the unit's features on a flight-representative testbed.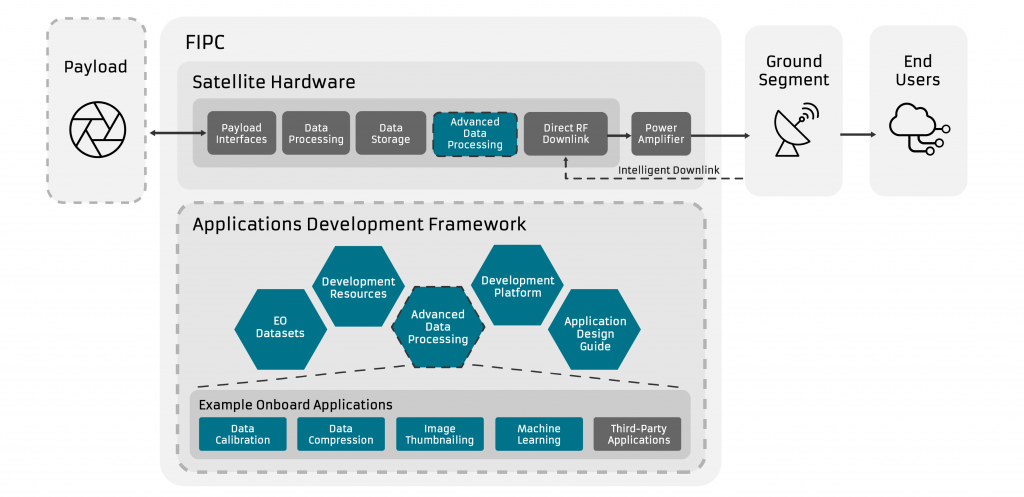 Carlos Urbina Ortega, ESA Technical Officer for the activity, sees a number of advantages to be gained from the FIPC: "We envisage substantial benefits from this InCubed investment, not least because of the system flexibility and computational power that the FIPC affords. Capabilities such as onboard ML acceleration for enhanced data management and services, together with in-orbit application reconfiguration, will ensure that small-satellite missions remain agile and end-user focused."
To know more: FIPC Activity Page, SSTL, Φ-week