December 14, 2021
InCubed helps launch Satelligence's Deepview monitoring service
After a successful development activity co-funded by InCubed, Satelligence has launched Deepview. Underpinned by Copernicus and contextual industry data, the service enables companies to progress their sustainability commitments by tracking deforestation risk in the supply chain.
Deforestation was at the forefront of the recent COP26 in Glasgow, with over 100 governments signing a pledge to end and reverse forest loss by 2030. But commerce also has a major role to play, and companies with credible sustainability policies need to ensure that their environmental stewardship extends to their suppliers. Maintaining vigilance over vendor processes and sources reduces risk and empowers organisations to make informed procurement decisions.
Satelligence is well placed to support such vigilance. The Dutch company has used its remote-sensing data expertise to build Deepview, an innovative service that maps the web of relationships between producers, traders and goods manufacturers so that companies can pinpoint areas of deforestation risk throughout the value chain.
As Head of Client Relations Nanne Tolsma explains, the service is a powerful tool for its users: "Deepview provides companies with new layers of meaningful supply-chain engagement while allowing them to demonstrate a commitment to internal and external transparency. This is an essential step towards the achievement of satellite-based supply-chain traceability for sustainable agricultural production."
The main focus of Deepview is currently the palm oil supply network of large traders and consumer goods companies, but the solution can easily be scaled to other commodities.
Kicking off in February of this year, the Deepview initiative began by interviewing a large number of businesses to better understand their environmental risk monitoring needs and requirements in often complex supply chains. Several companies were then selected for demonstrations on how their palm oil suppliers could be monitored, after which the iterative development of the web application prototype began in earnest. The result is an off-the-shelf tool that is now production-ready for commercial use, with several food giants among its early adopters.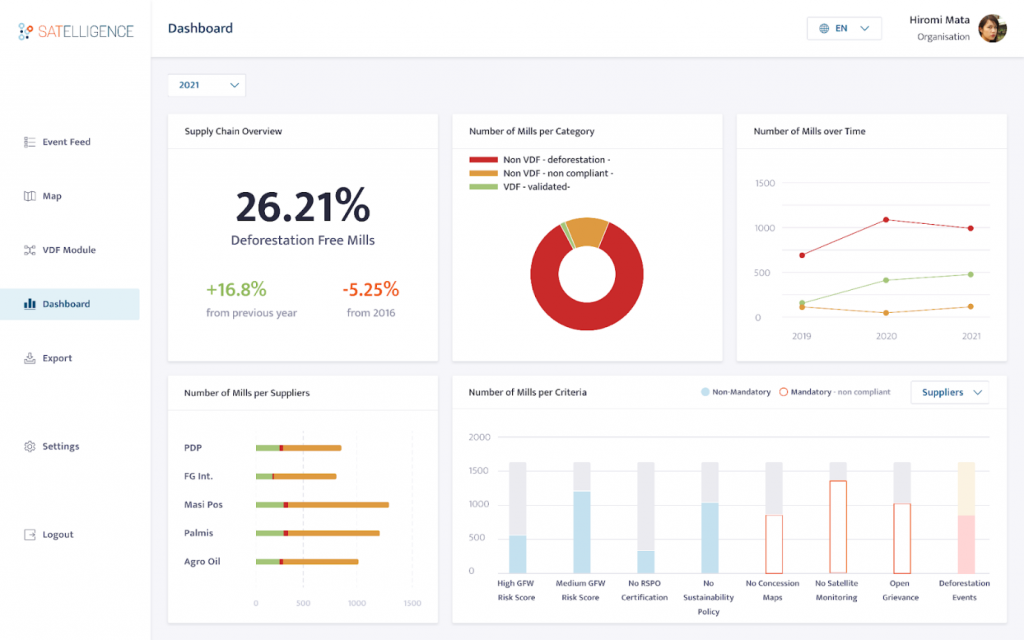 "InCubed has enabled us to complete early testing of our solution across a wide cross section of companies and to drive our market introduction forward at a time when deforestation is garnering considerable international attention. We are very grateful to ESA and the Netherlands Space Office for their continuing support," Nanne Tolsma adds.
The ESA Technical Officer for the activity is Frank Martin Seifert: "Deepview is a prime example of how Earth observation can be at the forefront of real-time environmental oversight while also forming the basis for value-added commercial applications. We're happy to have provided InCubed funding for an initiative that is win-win-win: beneficial for the profile of EO, for industry and above all for the health of the planet."
To know more: Satelligence, Copernicus, Deepview use case