Objectives of the Product
The SpaceCloud Framework (SCFW) revolutionises satellite software development, converting purpose built custom space hardware into flexible and reusable compute nodes. This allows for simplified space missions, providing an all-inclusive solution for in-orbit data processing and on the ground management software. Like cloud computing on ground, it also allows orchestration of operations each node (or satellite) will perform, including approving execution of applications and upgrading the SCFW software.
The products value proposition includes:
Maximised satellite utilisation
Faster Earth Observation insights
Reduced maintenance costs
Enables low latency data products
Simplified satellite management
Reduced effort and time to launch
Secured data from intrusion
---
Customers and their Needs
Payload manufacturers and satellite manufacturers/integrators are target customers for both SpaceCloud Hardware (iX5 and iX10) and the SpaceCloud Framework and related software. The demand for on-board processing is increasing, and Unibap can provide both the hardware and software for a flexible infrastructure. The Satellite operators, ground segment providers, and service providers are target customers for the upcoming SpaceCloud applications.

---
Targeted customer/users countries
Europe, North America, South America, Israel
---
Product description
The SCFW uses OS-level virtualisation to sandbox and deploy applications on satellites, similarly to popular cloud technologies. Application development for satellites no longer requires highly skilled embedded developers using low level programming languages. With SpaceCloud Framework enabled satellites, developers can choose one of the many supported programming languages, preferred machine learning framework and develop applications as they would normally do in any of the popular cloud infrastructure providers. SCFW redefined the satellite development workflow, reducing the risks, the skills, and the effort it takes to build applications for in-orbit processing. Develop, test, package and deploy – four steps that used to take months, are now reduced to a few days, even hours.
Developers can download the SCFW-SDK and submit their applications to the SCFW AppStore. Users can login to their preferred SpaceCloud provider and request to execute applications directly on a satellite, download data from that mission or even get a notification as soon as an event is triggered on the satellite.
Features include:
CPU, GPU, VPU access for computation
Concurrency of multiple applications in a sandboxed environment
Persistent and Temporary isolated storage space for each account
Unified sensors API
Unified Communication API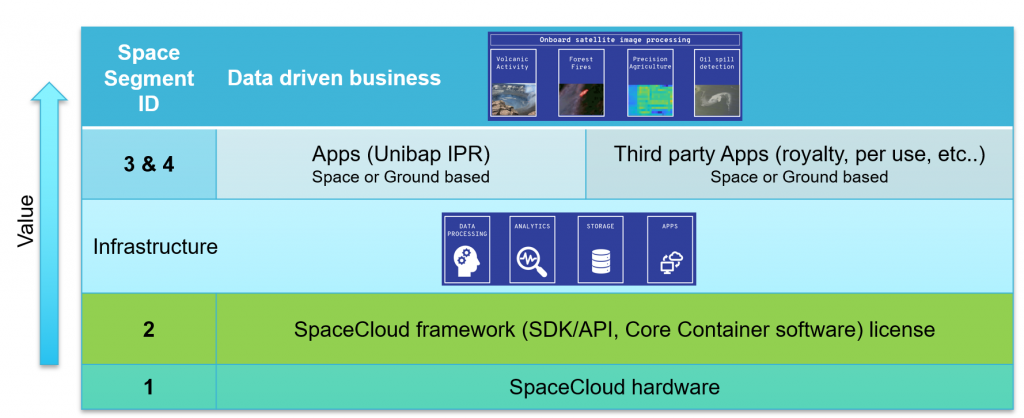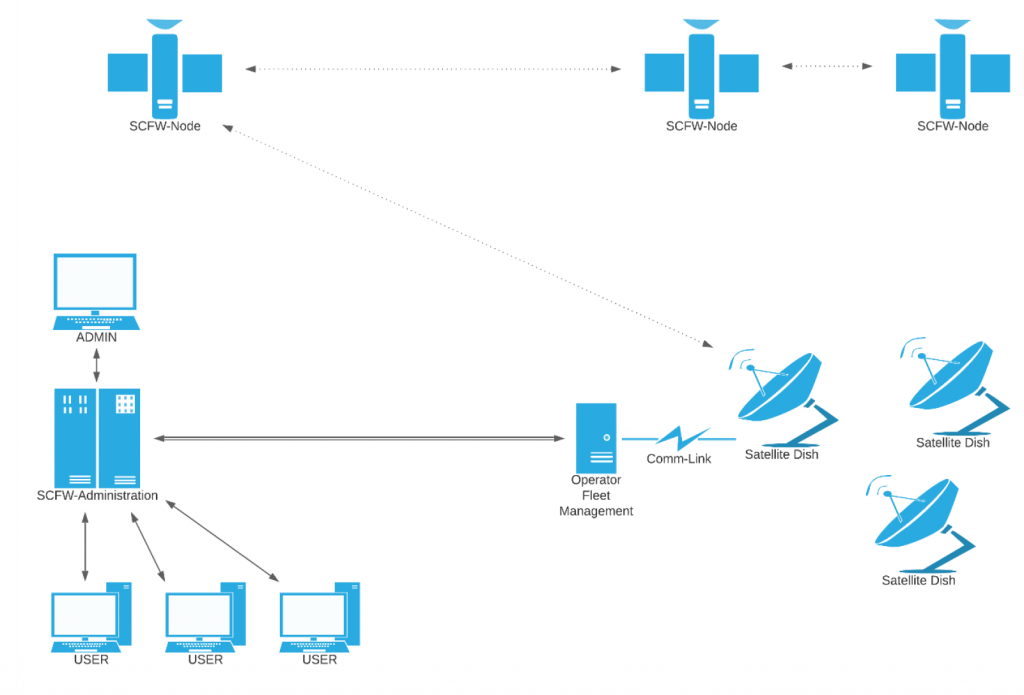 ---
Added Value
SpaceCloud, with its unique radiation tolerant x86 architecture, offers the following added value compared to other on-board computer solutions:
Developed using common programming languages and popular machine learning frameworks
Cloud architecture allows for containerised applications to seamlessly run on the ground or in-orbit
Re-use of applications with limited modifications
Low-latency data points
---
Current Status
The project was concluded with a successful final review. Core functionality of major system components has been developed and is running in the experimental setup of the ODE hardware-in-the-loop. Simple applications have been tested and the system has been validated internally by the project developers. The API and SDK has been developed and third party developers have started building applications for testing the framework in terms of performance and capabilities.
Several partnerships have been formed during the activity, most notably with Amazon Web Services and Swedish Space Corporation. The plan going forward is to perform an in-orbit demonstration to demonstrate the SpaceCloud capabilities.
---
To know more:
SpaceCloud Framework Datasheet – presented by Unibap