Objectives of the Product
Remote sensing requirements for the natural resources sector demand high data quality and coverage/revisit time. The Mission and Agile Nanosatellite for Terrestrial Imagery Services (MANTIS) mission fulfils these requirements using a compact and agile nanosatellite (12U CubeSat system).
Specific use cases that inform the mission design have been derived from Terrabotics' experience in delivering tailored information requirements and actionable intelligence to its end-users.
---
Customers and their Needs
This MANTIS satellite is particularly suitable for energy and mining applications. 60% of resources for these companies can be found in remote and hostile regions, leading to more complex and expensive projects.
Two thirds of these major projects go over-budget or are delayed due to unforeseen risks and hazards. These failings are usually a result of inadequate upfront due diligence, planning and prior knowledge of the challenging operating environments. Actionable intelligence plays a vital role in improving safety, planning and mitigating the risks of these projects.
The MANTIS satellite addresses these challenges with periodic statistical reports on regions of interest. These reports are computed through the latest data processing and machine learning techniques as well as other data sets, such as those derived from the EC/ESA Copernicus Programme.
The satellite obtains high resolution images that will later be combined with lower resolution data that is already available from the Copernicus Programme.
---
Targeted customer/users countries
The MANTIS satellite images different parts of the world. The sun-synchronous orbit chosen for the MANTIS mission offers frequent revisit times (an average revisit time of four days at the equator), while retaining flexibility to image new areas of interest based on evolving market demands.
---
Product description
As prime contractor, Open Cosmos Ltd. is responsible for the end-to-end space mission service covering the space, launch, ground and user segments of the mission. Open Cosmos leverages its strategic partnerships with key players in the industry to enable the delivery of services across these segments.
Open Cosmos provides a new generation 12U spacecraft platform. This platform hosts the Integrated Standard Imager for Microsatellites (iSIM-12U), an innovative high-resolution optical payload for EO missions developed by Satlantis Microsats SL.
The payload consists of a compact binocular telescope specifically designed to fit within a volume of 8U, and is ideal for 12U CubeSat standard platforms. The design relies on iSIM technology, comprised by the integration of four key technologies:
A binocular diffraction-limited optical system working at visible and near-infrared wavelength.
A high precision, robust and light structure.
A set of innovative COTS detectors with 2D CMOS sensors.
A high-performance and reconfigurable on-board processing unit with super-resolution algorithms implemented.
Terrabotics' object recognition and change detection algorithms enable the processing of data on the ground using the latest machine learning techniques. The image below shows the product/system architecture and highlights the main system building blocks, both on a high level.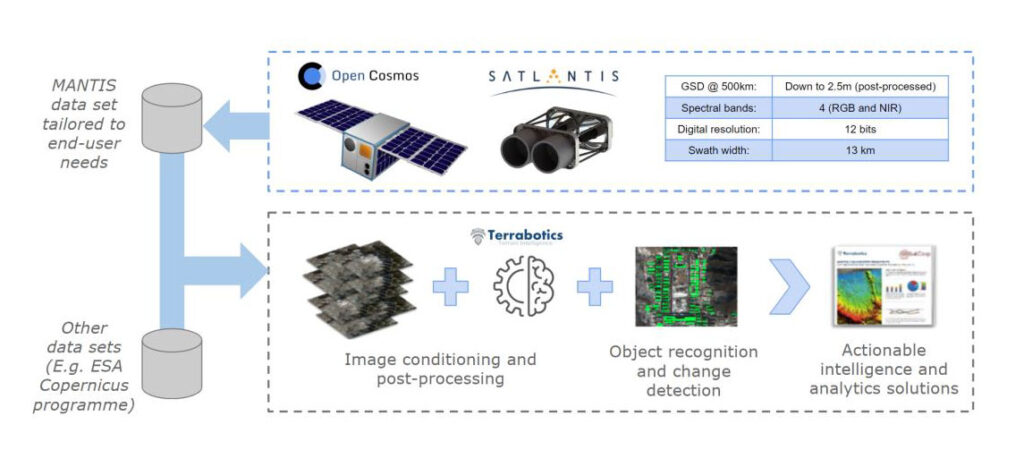 ---
Added Value
The current space imagery market is not tailored to the energy sectors needs when it comes to legal terms and conditions, performance and availability. The MANTIS mission offers an end-to-end solution dedicated to the energy market by providing simple licensing for end-users, optimised client area coverage and priority tasking.
This MANTIS satellite could be the first of an aggregated constellation operated by Open Cosmos. The constellation would give customers access to diverse types and volumes of information, depending on the number of satellites. This would enable organisations of all sizes and sectors to leverage their own space infrastructure, developed and managed by Open Cosmos. These organisations would also benefit from additional datasets and services from satellites that Open Cosmos manages and operates for others.
---
Current status
The MANTIS mission has successfully completed its Preliminary Design Review (PDR) milestone. The Consortium partners are executing activities as part of the critical design phase for the mission. This includes the selection of third party products and services, and executing early engineering integration activities.