Objectives of the Product
By using satellite radar sensors (e.g., Sentinel-1, COSMO-SkyMed and COSMO Second Generation, TerraSAR-X), it is possible to obtain mm-accuracy displacement data from Space, without having to install anything on the ground. InSAR technology has rapidly advanced to become a standard tool for measuring ground deformation phenomena.
Fast standard reports about trends and changes of the ground surface – also known as "bulletins" – showing movements ranging from mm to cm, are nowadays produced through a supervised process, after each new satellite acquisition.
Bulletins are currently sold to those customers who are committed to frequently monitoring fast changes occurring in the asset of interest. Target markets are the Mining sector, O&G, and Natural Hazard in the case of abrupt events (volcanic events, post-Earthquake).
According to the clients' feedback, bulletins must have a dramatically faster delivery time, a clear description of the reliability of measurements, a cost reduction in the view of scalability. Along with these, requirements about the User's Experience (bulletins visualization and browsing) are stressed.
The BulletInSAR activities aim to enhance the production of bulletins through a ML-based unsupervised process to match the market's requirements of timeliness, reliability, scalability, and user-experience.
---
Customers and their Needs
Deformation Fast Reports (Bulletins) are currently delivered to the market.
The Clients' Community, made of large international groups managing several assets worldwide, while appreciating the impact on their activities, provides feedbacks on critical factors today limiting an effective day-by-day application to the monitoring of their assets. Customers' needs touch the following critical points:
Delivery time in a few hours
Delivery time to be compatible with the forthcoming new generation of constellations characterized by fast revisiting time
Output to be described in terms of measurements reliability
Production time and cots to be applicable to systematic use over several assets
---
Targeted customer/users countries
Worldwide
---
Product description
The Bulletin product currently consists of Fast deformation Reports, derived from a pair of SAR acquisitions and semi-automatically delivered to the Client using the web-based tool TREmaps®.
Bulletin production starts from the following inputs:
Interferometric SAR pair (T1 and T2) over the AOI
a Digital Elevation Model of the AOI (SRTM is the standard input, other DEMs if available)
and consists of a collection of three information layers:
Visibility Map Analysis
Change Detection Analysis
Displacement Analysis

Differential Interferograms (displacement magnitude: centimetres)
Speckle Tracking (displacement magnitude: tens of centimetres up to metres)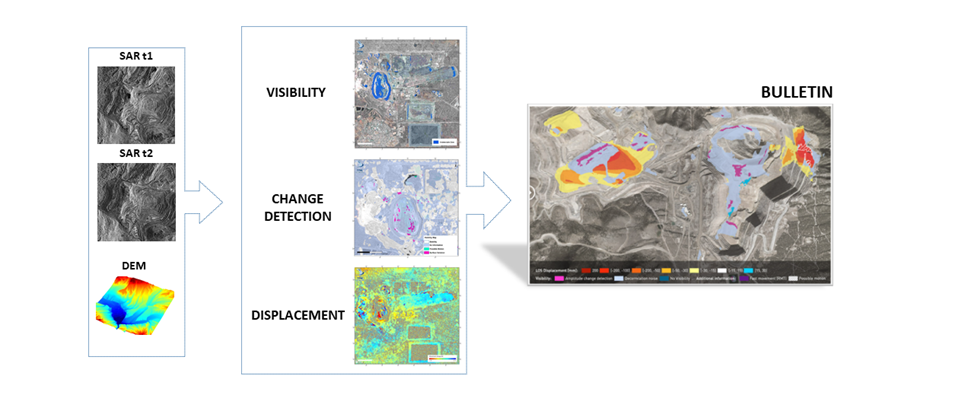 ---
Added Value
Bulletins are already considered a valuable tool by our clients: their request is to extend this kind of projects to a higher number of assets worldwide. To cope with this request, BulletInSAR improves the product in terms of:
Timeliness
Information about measurements reliability
Scalability
User Experience
---
Current Status
The activity was kicked-off in mid-2022; the activities are tackling the requirements consolidation and the developments design phases.