Objectives of the Product
The investment in EODDL is part of SENER Aeroespacial's corporate strategy pillars of SENER roadmap for space communications. This decision is followed the relevant achievements reached in ESA science missions where SENER Aeroespacial is consistently delivering steerable antenna subsystems as well as RF equipment.
---
Customers and their Needs
During last decades, institutional and private European Space actors have contributed to create an important and growing Earth Observation (EO) sector. EO market is nowadays undertaking a rapid transformation towards large constellations and the use of next generation sensors and advanced payload.
This potential increment in the number of satellites to manage, the data volume to handle, together with the current congestion of the commonly allocated spectrum, are pushing to find frequency band alternatives and the use of new technologies to support higher data rates. In that context there is a trend encouraging the use of the 26 GHz spectrum (25500-27000 MHz) for payload data transmission in Low Earth Orbit (LEO) missions. Consequently, an evolution in the communication architecture of future planned EO satellites is required in order to deal with the expected big increase in the volume of data to be downloaded.
Thus, the shift to the 26 GHz band will provide 4 times more available bandwidth. However for its optimal use, especially at very low elevation angles, there is a need for highly directive (thus steerable) antennas and advanced coding and modulations schemes to cope with the highly variable atmospheric attenuation.
Taking advantage of that situation, SENER Aeroespacial is proposing the development of a full X and K-band EO Data Downlink System (EO-DDL). It is a robust high throughput downlink system for LEO satellites targeting data rates higher than 2.6 Gbps per channel.
---
Targeted customer/users countries
Earth Observation satellite missions. Worldwide.
---
Product description
Based on an unique reconfigurability within the baseband processing and operational frequency as well as the integration of a compact and steerable dual-band antenna, the system will maximize the average data throughput in every GS contact.
Additionally, the inhered interoperability due to the capability to operate in both X and K band will allow the contact with the majority of the current and future GS as long as there is still a limited deployed ground infrastructure available with 26 GHz capability.
In order to build the complete downlink system, SENER Aeroespacial is proposing a novel concept where two main on-board sub-systems are identified (Figure 1‑2):
Payload Data Transmitter (PDT) assembly, built around baseband modules as well as RF parts (e.g. the up-conversion and power amplification) suitable to support both X- and K-band signals.
Dual Band Steerable Antenna (DBSA) assembly, with the proper combination of dual-band units (e.g. reflector, feed), band-specific units (e.g. waveguides), pointing mechanism and pointing mechanism electronics.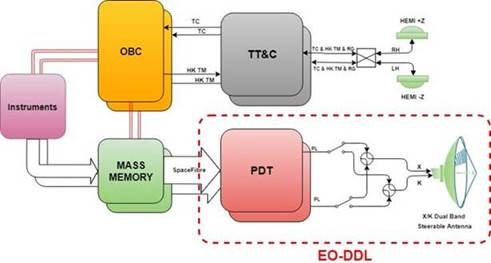 This concept, together with the consortium and the associated work plan are the result of a careful balance of reusable design and innovation aiming to develop an European, highly integrated, robust, reliable and flexible (dual-band) solution to enable the use of very high-rate sensors and payloads required for the upcoming Earth Observation (EO) missions.
Therefore, the key features and functionalities are:
Reconfigurable: with the capability to manage different frequency bands (operation in X/K), different bandwidths and several Coding & Modulation schemes in a flexible and reliable manner. In this way, it maximizes the number of applications and available GS to link towards as well as the average data throughput during a contact.
High speed: capable of internally managing extremely high data rates and transmit the data at high speed to the Ground (higher than 2.6 Gbit/s per channel).
Availability and robustness: ensuring high-speed data transmission from low elevation angles, independently of the GS location and weather conditions
Compactness: the implemented compact and scalable design will allow its implementation in different kind of missions, including small spacecraft's.
Scalability: This concept can be scaled in a future development by integrating a PDT and a TTC transceiver in a single unit operating in K- and X-band respectively
The proposed development activities aim at achieving the TRL5 for the critical technologies identified in this proposal, within the time frame defined here as well (Q4-2021). The TRL status reached and the time window proposed are relevant since the second purpose of this activity is to allow reaching TRL-6 of the integrated critical technologies in a relevant environment, for late Q2-2022.
The proposed development is the continuation of a previous phase A already completed under ESA contract No. 4000124352/18/NL/FF/gp: "Feasibility of a full X and K-band EO Data Downlink System". This project has been successfully completed.
The outputs of this project will be used as inputs for the proposed INCUBED activities, where it is foreseen to design, manufacture, assemble and test the Payload Data Transmitter (PDT) EM and detail the development plan for the different components of the system up to achievement of space qualification (EQM).
---
Added Value
EO-DDL maximizes the number of applications and available GS to link towards as well as the average data throughput during a contact.
---
Current Status
This Incubed activity has been completed on Q3 2023.