July 13, 2023
Φ-lab-WMF AI4EO competition inspires European New-Space start-ups to rise to the challenge
At a recent award ceremony, Φ-lab announced the four winners of the AI4EO Call, a competition launched in conjunction with the We Make Future event. The top entries received a range of prizes, including an all-expense-paid trip to the ESA EO Commercialisation Forum in October.
As a seed bed for innovation in commercial Earth observation (EO), ESA Φ-lab actively promotes and encourages ideas from start-ups and entrepreneurs. We Make Future (WMF) is the largest digital and social innovation festival in Southern Europe, and so provides an ideal forum for Φ-lab to interface with today's and tomorrow's success stories in the space sector. In fact ESA has enjoyed a major presence at the gathering since 2020, and this year's edition in Rimini in Italy featured a popular ESA booth with exhibits that included activities, products and mock-ups from Φ-lab. The multitude of visitors to the booth comprised enthusiasts, start-ups and companies among others, with each taking the opportunity to interact with Φ-labbers and other ESA representatives.
A notable attraction at this year's event was the AI4EO Call, a joint initiative of Φ-lab and the organisers of WMF. The competition concerned applications of artificial intelligence (AI) and data processing in aerospace and EO and aimed to reaffirm the value of these sectors in international development and the protection of our planet. Entries were assessed by a panel consisting of ESA and industry representatives, based on criteria including project feasibility, degree of innovation, competitive positioning and potential for further development.
Sixteen of the start-ups were shortlisted and invited to WMF to pitch their proposals to the panel. At a dedicated ceremony in the ESA booth, Φ-lab AI Ecosystem Manager Sabrina Ricci announced the four winning applications: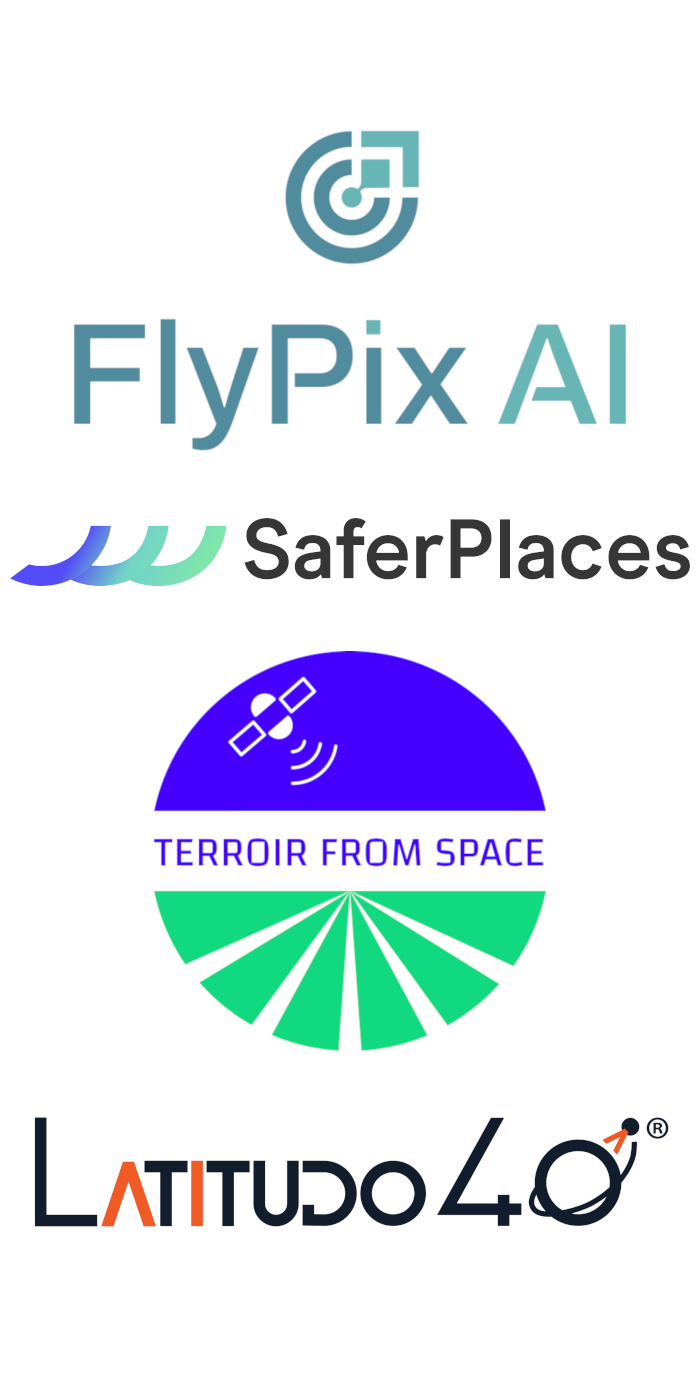 The first-prize winners, FlyPix, won a trip to the ESA EO Commercialisation Forum in October, where they will participate at an ideas-pitch session with private investors. Other prizes for the runners-up included access to business and technical coaching on EO and a subscription to the Sentinel Data Hub.
"We're truly grateful to have had the opportunity to take part in the AI4EO competition at WMF 2023 and were overjoyed to be selected as the winners," commented FlyPix co-founder Sergey Sukhanov. "Not only did this experience allow us to showcase our progress, but it also provided a platform for networking with other participants and exploring potential collaborations. In addition, the EO Commercialisation Forum will be a fantastic chance for us to present our product to a new audience."
Head of the Φ-lab Invest Office Michele Castorina was impressed by the competition's take-up: "There has been a striking response to the AI4EO Call, with an extremely broad range of ideas that amply demonstrate the vigour and continuing growth of European innovation. We've also had a great deal of interest shown in the ESA InCubed programme, giving a number of possibilities for future co-funding of EO start-up activities."
To know more: ESA Φ-lab, ESA InCubed, We Make Future, AI4EO Call, ESA EO Commercialisation Forum
Image courtesy of WMF – WeMakeFuture