Objectives of the Product
Offshore wind is an attractive energy alternative, however rigorous environmental legislation, a harsh and dynamic environment and more remote and widespread locations require thorough and meticulous planning and continuous operational monitoring frameworks of the wind sites and the dynamics of the surrounding water bodies.
However, the majority of the data and information needed to plan, construct and operate offshore wind farms is costly, time consuming and risky to collect, requiring rigorous field campaigns and expensive equipment. Collectively, such logistics is associated with high operational costs and hence limitations in terms of the frequency of inspection and total site coverage.
The high temporality and spatial resolution of modern EO satellite infrastructure combined with novel analytical frameworks and AI provides a cost-efficient and effective means to continuously track and monitor the status, change and dynamics at remote and widespread locations, such as offshore wind farms. Collectively, the effective utilization of these new satellite data sources provides a powerful, low cost and efficient tool to monitor seabed dynamics and movement, coastal dynamics, vessel traffic, turbine direction, sedimentation patterns, individual objects and several other parameters relevant for offshore wind operations and maintenance.
The Siteobserver project aims to assess existing data and information gaps in the offshore wind sector and identify the core user needs and requirements, as well as operational requirements, to make best use of such satellite-based surveillance frameworks. With a vantage point in these requirements, a prototype platform for operational application will be built in close dialogue with key stakeholders.
---
Customers and their Needs
The key customer segment targeted by the Siteobserver – offshore wind platform are offshore wind operators; however, the platform concept is relevant for a wide variety of stakeholders operating in marine and offshore environments, including Offshore Oil/gas, Coastal infrastructure operators, dredging companies, etc.
The overarching goal of the project's user engagement is to ensure that a user base is built for the SiteObserver solution while it is being developed, and that the system infrastructure and tools are designed to meet the needs of this user base. To this end, a series of more specific objectives to the user engagement can be formulated as follows:
To ensure that technical developers in the project team understand user requirements and allow these to guide the development of the SiteObserver solution;
To elicit relevant information about existing relevant IT infrastructures and processes that the tools will need to be deployed within;
To ensure users have the opportunity to contribute to the quality assurance of the SiteObserver solution and tools to ensure their usability.
Comprehensive user consultation was undertaken during the first months of the project in order to frame the development of the technical solution. The development follows a user-centric agile approach, collecting user feedback in all phases of the project and continuously evaluating requirements, plans and results. Therefore, both ideas and requirements are expected to evolve and change as the project progresses.
---
Target customers/users countries
Tapping into a global market, target customers and users are global.
---
Product description
The SiteObserver solution consists of an integrated EO data platform to provide on demand and site-specific access to EO data assets and relevant data analytics. The solution provides tailored access to the user-specified offshore wind site locations. Overall access conditions are based on a subscription business model, where the user pays an annual subscription fee to access the service. Additional services such as acquisition of VHR data and tasking of commercial satellites can be activated on demand through an integrated payment module.
The figure below illustrates the overall SiteObserver system architecture and its key components and major interfaces. All microservices are developed as part of the activity, building on experience and careful selection of available tested technology.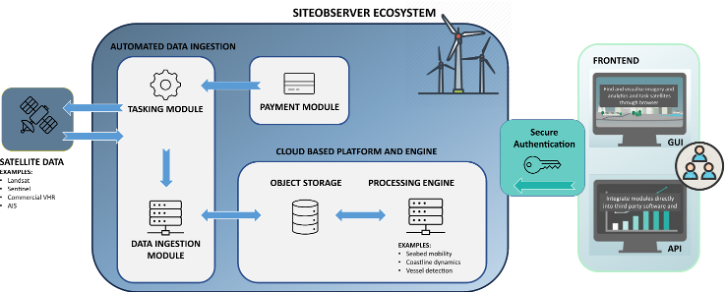 ---
Added value
Currently, stakeholders in offshore wind are to a large extent relying on more site-based intelligence gathering (with helicopters/drones/ships/etc.) which is both costly and risky. Most stakeholders do not have up to date knowledge on relevant EO based assets or how to access these – therefore satellite data is to some extent underutilized. Siteobserver bridges a technology gap by providing easy access to relevant and context specific satellite data for the exact areas required by the key stakeholders. They get access to the latest satellite imagery and derived analytics relevant for their sites only and do not need to navigate through, or be familiar with, the vast quantities of different EO assets which are not relevant for their applications.
The illustration below shows the main components of the envisioned Siteobserver front end.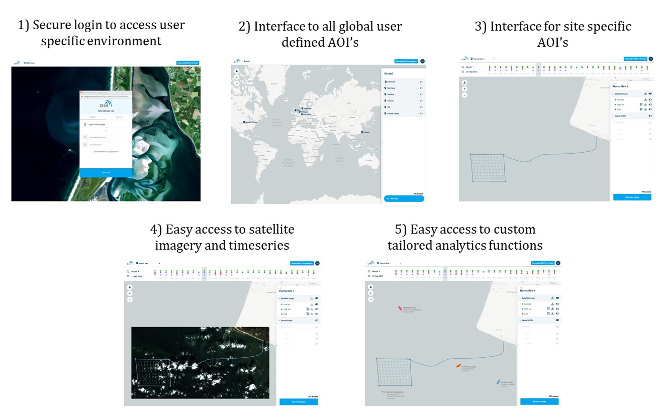 ---
Current Status
Siteobserver is currently finalising the first stage of the user requirements phase and interviews have been conducting with a diverse group of representatives from the offshore wind sector.
---