Objectives of the Product
It is now possible to get information from images quickly after their acquisition, with imagery available in abundance. SignalEyes services provide Calls-to-Action for agri-business partners, managers of infrastructure or environment and mapmakers.
SignalEyes is a system that identifies object changes that customers are interested in, such as crop parcels, buildings, roads, water courses, solar panels and trees. Signal changes are varied and translated into tailored messages for customers such as:
''reserve mowing capacity in week x for 5 ha on parcel y'' for biomass development in a pasture
''estimated volume of building annex is z m3, check building permit'' for a new annex of a building.
The SignalEyes system consists of Object Based Signal Generators (OBSG), that are sets of 'deep-learning' algorithms monitoring the status of a particular object type on new images inserted into the SignalEyes system. Object knowledge and image characteristics together lead to Calls-to-Action that are specific to customers. The project is allowing OBSG's to work together for neighbouring objects in order to increase their quality.
---
Customers and their Needs
The SIG4EO technology in SignalEyes is being applied in 2020 for a variety of customers such as:
Local governments managing large scale topographic maps (BGT) in The Netherlands receive mapping instructions for modified objects. When mapped, they are checked in SignalEyes.
Gasunie, Nederlandse Aardolie Maatschappij (NAM) and other infrastructure managers receive alerts on spatial changes over or near the pipeline and other infrastructure that may form a risk to the assets.
Engineering companies working on the modernisation of sewage systems, and preventing heavy rain flooding, use the continuously updated and very detailed Surface Sealing Map of the entire Netherlands.
Provinces and nature protection agencies practice law enforcement on the cutting of trees by using information on the number and height of trees in the Boomregister.
A variety of customers in The Netherlands and abroad receive information on the presence and area of solar panels, and rooftop potential. This service is now in execution for 14 metropolitan cities in Asia.
Agencies paying/controlling agricultural subsidies in Europe and beyond for specific subsidies.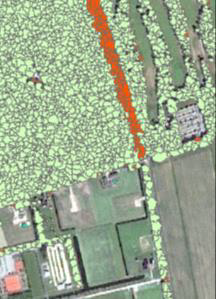 ---
Targeted customer/users countries
The Netherlands, Denmark, Kazakhstan, India, Tajikistan, etc.
---
Product description
Satellite sensors are better suited to monitor changes on the surface of the Earth. Individual changes can be sold to interested parties when they are put in a language relevant to these parties and when they meet criteria such as price, timeliness and quality. The essence of SignalEyes' innovation is that we have succeeded in meeting this criteria, with signals used in very different fields.
A SignalEyes signal refers to a number of database fields used to formulate the Call-to-Action of a user. The signal is also rich enough to contain the elements that enable the control such as whether the action has been executed and registered correctly.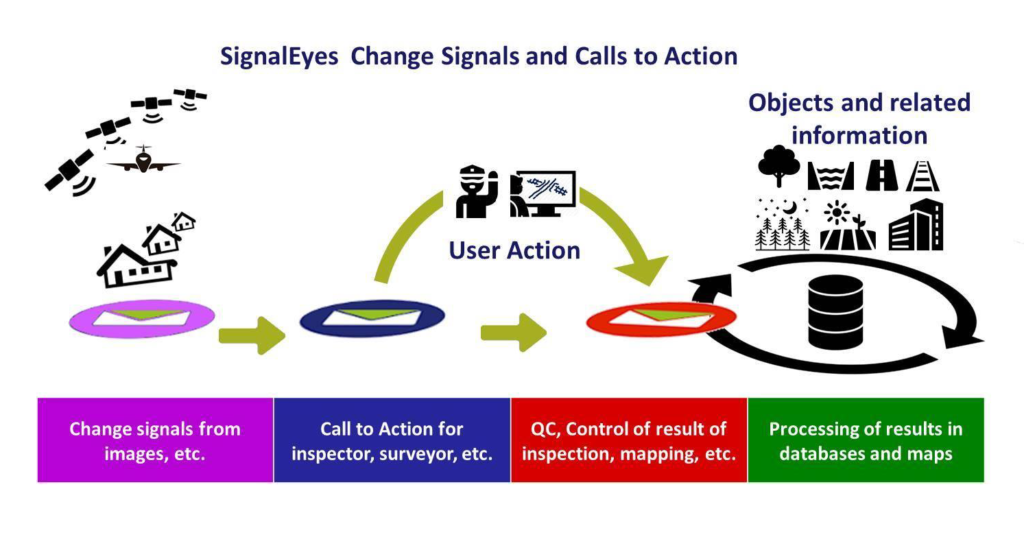 Information provided on the API, its quality and the frequency as well as type of imagery used is all included in the Service Level Agreement with a customer. The change signalling in SignalEyes is a generic activity performed for objects for which customers have been identified/contracted.
---
Added Value
The production of change signals may be generic, but the information each individual customer requires is specific. A generically produced change signal may not be worth the cost. However a value added information Call-to-Action that a customer can directly assimilate in their work process has a significantly higher value. This is why SignalEyes Callsto-Action are generated for each individual customer.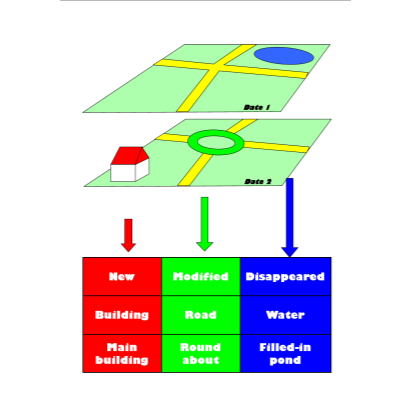 Of course, data for Calls-to-Action are based on a spatial change that is generated from many sources. However, there is little competition when the timeframe between the collection of a satellite image and the subsequent Calls–to-Action are in the order of a few days and has a completeness nearing 100%.
---
Current status
The SIG4EO activity was completed in March 2020. The SignalEyes workflow assimilates the activity results during 2020 for all described objects.
With the completion of the SIG4EO activity, NEO starts the monitoring of all crop parcels, trees, water courses, buildings, roads and nature areas with at least four coverages of 50-cm VHR-images in 2020.
NEO is the first company on the planet able to monitor an entire country at this level of detail with this frequency and speed.