Objectives of the Product
Our service is intended as an access point for science-based data and insights on fine wines. Various objective data items are organised and offered such as weather, vegetation monitoring, maps, pricing, etc. These data represent an input for additional insights. All the produced data are distributed via API (B2B), iframe integration (B2B) or via a web platform (B2C). A cloud-based environment ensures scalability and easy integration of additional services.
The final goal of Saturnalia is to become a one-stop-shop for objective data in the wine industry. A "horizontal" platform, on which several verticals can be built, potentially even outside the wine market. For example, an insurance company could leverage our vegetation monitoring and weather "blocks" to optimize insurance deals and increase speed and accuracy of claims. In order to reach our goal, we have to further develop the business side and the technical side.
---
Customers and their Needs
Wine merchants and investment companies have to attract customers to complete sales. Moreover, they look for data to assess the vintage. Wine professionals have to access several sources to obtain fragmental information. Saturnalia offers a reliable and scalable source of data, enriched with customisable insights.
Wine collectors desire a platform to help them manage their collection and to spot deals. Saturnalia is a reliable and scalable source of data, offering innovative insights.
Wine students look for details to support their efforts in pursuing wine certifications. Saturnalia is a one-stop-shop to access the data they look for.
Producers seek better understanding of the impact of weather during the growing season and to keep everything under control. Saturnalia offers continuous monitoring and innovative insight generation.
The damage claim process in agricultural insurance involves loss adjusters in the field with little automation if any. Saturnalia can provide an initial assessment of the distribution of damage and support loss adjusters in their tasks. Last but not least Merger&Acquisition (M&A) agencies are constantly looking for sources of data to fill their information memorandum and double-check the data received from the seller. Saturnalia can provide them the data they need and also support buyers in choosing the best deals.
---
Target customers/users countries
Target customers are spread across the world. Wine merchants are mainly concentrated in London for historical reasons. The producers of fine wines targeted so far are mainly located in Italy and France.
---
Product description
Saturnalia aims to become a one-stop-shop for objective, factual data in the wine business.
Part of the system has already been developed in previous initiatives. All the data and insights hosted within the Saturnalia infrastructure are made available in two ways: a platform with a graphical user interface, and API-based data distribution. The former is designed for consumers, while the latter is for businesses desiring to integrate part of our measures in their workflows. In the framework of the InCubed project, we are going to further expand the set of data available by including DEMs and soil maps. Moreover, maps will be expanded as well to cover more wines. A set of new insights will be developed, focusing specifically on plot quality assessment and damage assessment. The exclusive Saturnalia scoring system will be extended to every available wine in the database.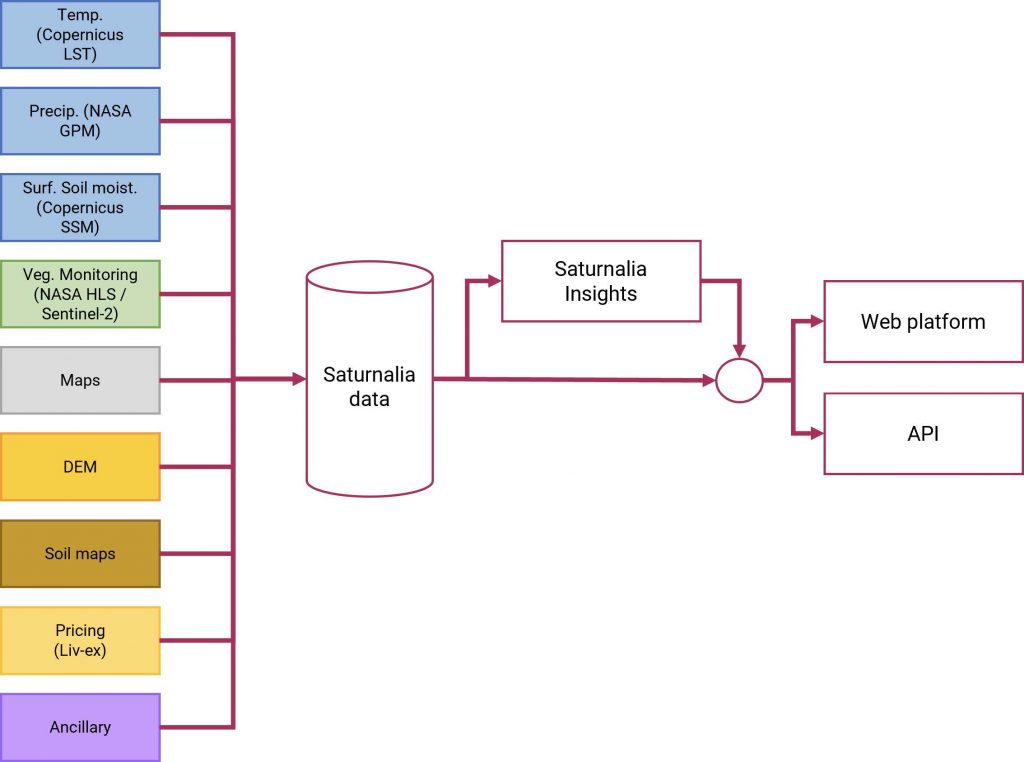 ---
Added value
Even though, in the 21st century, data is key to most activities, the fine wine market has not widely embraced this transformation yet. It still largely relies on word-of-mouth and opinions are frequently anchored to specialised journals publishing news and subjective evaluations in a storytelling-style with minimal hard data content. In this context, the added values of Saturnalia are manifold. First, data and insights are made available on a single platform, without the need of roaming through tens of websites to understand the vintage and compare wines. Secondly, the data available can generate advanced and unexplored insights. The close collaboration with producers and insurance companies can help moving a step forward in building plot quality and damage assessment models.
---
Current Status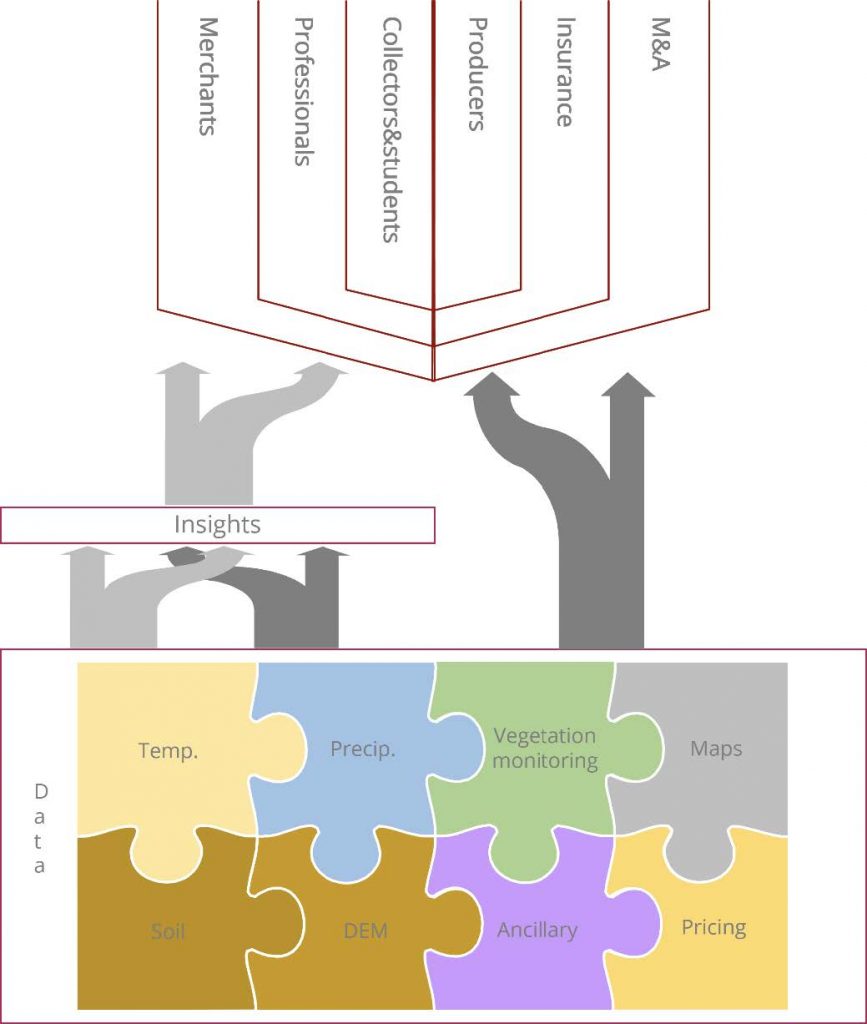 The current service – mostly developed within the framework of the ESA Kick start and ESA Demonstration initiatives – represents the foundation of the data segment (figure below, puzzle components).
We have organised a webinar for November 9 2023 with the aim to explain what Saturnalia offers to different market segments. This is the link to register: https://zoom.us/webinar/register/WN_d3DSa5vjRr6S03F-SCKZSw
Case studies are currently undergoing with several entities. The goal is to find out which market segment will be faster. Moreover, soil maps and DEM data have been included in our database, as well a new set of wine maps.
---