Objectives of the Product
Satforcert provides satellite images that enable frequent view of the forest canopy and the changes over time. This map feature together with certification forms, checklists and report templates facilitates the work of forest managers and auditors to prepare and assess the forest management.
The collaborative approach facilitates auditors and forest owners to share information and manage the corrective actions. The task and document manager facilitate the creation and monitoring of corrective actions and allow forest owners to provide evidence such as documents and photos.
Satforcert has been integrated with QField mobile application where users can display maps, take pictures and fill out forms.
---
Customers and their Needs
The main customers that can benefit from this innovative product include certification bodies, auditors, forest certification group managers and the forest managers involved in managing certification information. National and international standards can also use this solution to make their templates available to certification bodies.
Auditors and forest certification managers are the key users that will benefit from this product, making its work easier and more efficient, improving the communication and transparency of the whole process.
The integration of maps, satellite images, documents, checklists, corrective actions, processes and reporting in a system can replace multiple systems and spreadsheets used currently and make the process more efficient. Satforcert reduces the current paperwork, and switches from cumbersome emailing to a centralised system where both users can upload documents and generate reports. Digital checklists and the corrective actions manager will also simplify the process and provide better understanding to both parties.
Certification bodies will also benefit from this product, being able to digitalise all the templates and reports and make the work of its auditors more efficient. Finally forest owners and managers can also benefit from this product in the day to day forest management and operations monitoring.
---
Targeted customer/users countries
Ireland and United Kingdom
---
Product description
Satforcert has beenSatforcert has been implemented in the ForestHQ online platform, providing a centralised database and many tools to manage different types of information. Satforcert has connected ForestHQ to a Sentinel-2 provider and potentially to other providers via web services (WMS/WFS).  The system has a module to analyse satellite images and provide forest canopy change detection. The system also integrates with QField mobile application to collect field data.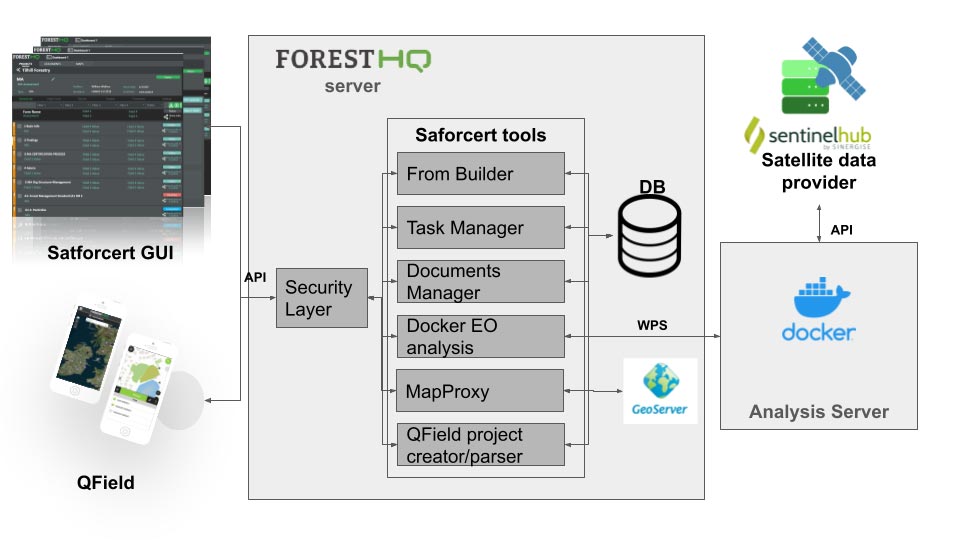 The main Satforcert functionality will include:
Customisable projects that can be defined by the user including custom fields, menus, subtask templates, forms, etc.
Forms & Reports

Form builder to create custom forms, checklists and reports

Standardised checklist compliant with forest management certification standards and public certification reports

Spatial information:

Up-to-date Sentinel-2 images and historical images

Automated canopy forest change detection

Task manager. This tool provides an easy way to manage corrective actions and provide evidence that these actions have been addressed.
Document manager to upload and share documents
Mobile application for field data collection
Secure sharing of data between different stakeholders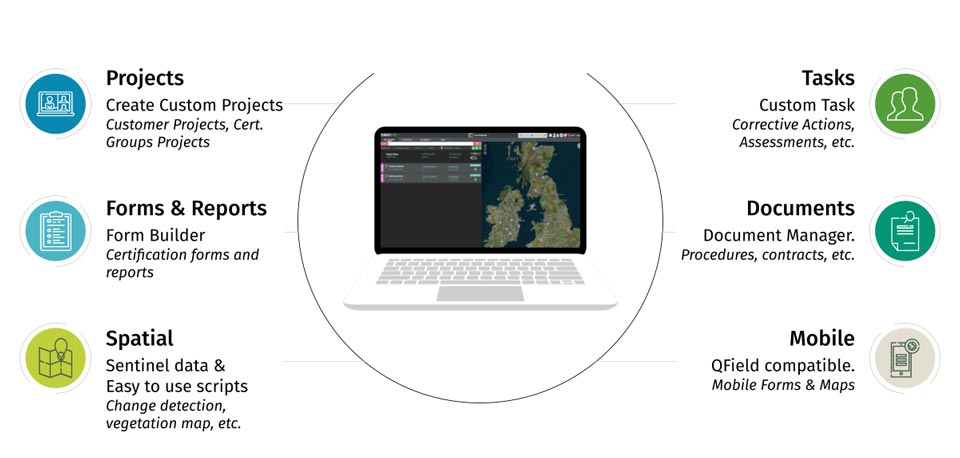 ---
Added Value
Saforect makes more transparent the certification process and reduces the time and costs of forest certification. The system is also designed to make it easier for forest owners to be certified. This system addresses many of the current challenges regarding the forest certification, including:
Bring clarity to forest managers and forest owners about the certification process with accessible documents, defined workflows and digital forms.
Reduce Cost. Digitalise the business processes to make them more accessible, secure and efficient.
Reduce Time. Reduce the required paperwork and facilitate the review and transfer of documents. This makes auditors and forest managers more efficient in their day to day work.
Improve Control of the auditing process and the certification group members. Provide a more informed knowledge and value of the forest asset. This is achieved by providing the capability to standardise data entry and utilise satellite imagery data to support the audit process.
Improve Communication between auditors and forest managers using assignments and sharing options.
---
Current Status
---
The initial Satforcert activity concluded in June 2022. The validation phase with the end-user has been very encouraging. Both forest managers and certification bodies see many benefits of this new system.
The final product will be made available to the wide public in the coming weeks, any interested organisation will be able to sign up for a 15-day free trial of the system and we will also provide online demos of the system and video tutorials. For more information and updates visit www.treemetrics.com
Furthermore, we are having a second phase of this activity (CCN) to develop a new product focused on forest carbon projects and estimation. This new activity is starting in June 2022. We will update this section shortly with new information about the progress of the new activity and the expected final product.