Objectives of the Product
ENPULSION is currently selling electric space propulsion systems with a Components-Off-The-Shelf (COTS) version of the integrated thruster Power Processing Unit (PPU).
Discussions with key players of the space industry have shown that these customers need a higher level of electronic part reliability (radiation tolerance), as well as a higher level of product assurance of the overall thruster system.
ENPULSION currently offers electric space propulsion solutions for small and medium-sized satellites from two product families: ENPULSION NANO and ENPULSION MICRO. The ENPULSION NANO R³ is a development product with COTS+ parts based on the flight proven ENPULSION NANO (formerly IFM Nano Thruster). It is also an improvement on the lessons learned during in-orbit verification, ground testing, and customer feedback.
Originally designed for Cubesat application, the COTS+ variant is intended for small satellite applications. The main focus is an upgrade of the electronics to increase reliability and suitability for more demanding space environments. Consequently, a standard-compliant qualification test campaign tracks the development.
For high emission requirements concerning thrust and total impulse, the ENPULSION MICRO R³ is a suitable solution for medium-size satellites found in constellations. This activity includes a qualification test campaign to demonstrate the performance and suitability for the space environment.
---
Customers and their Needs
The versatility of the ENPULSION NANO and ENPULSION MICRO families results in a wide range of customers. These include academia building student based Cubesats over SMEs, and start-ups demonstrating their satellite missions or electric propulsion for constellations of heritage customers.
Discussions with customers identified requirements regarding environmental loads, performance capabilities, and design aspects. These are considered in the design definition and qualification levels of the two thruster systems.
The main challenge is to design propulsion systems in a one-size-fits-all approach. These systems must respect general space standards and end-user requirements from different backgrounds and countries. They must also keep them sufficiently low in price so that emerging players with budget-constraints can access the space market.
---
Targeted customer/users countries
All space-fairing countries.
---
Product description
The ENPULSION NANO R³ (see Figure 1) and the ENPULSION MICRO R³ (see Figure 2) are Field-Emission Electric Propulsion (FEEP) systems for small and medium-size satellite applications. They are designed based on flight-proven technology originally intended for the New Space market with comparably lower product assurance and verification requirements compared to space heritage providers. Both thruster systems undergo extensive Qualification Tests according to ECSS standards, in order to mitigate technological risks and strengthen the competitiveness of this European solution on the global market.
This includes environmental endurance and performance as well as radiative testing to demonstrate the capacity to withstand more challenging space environments. The test levels are based on standards and feedback from customers and agencies. The qualification test campaigns aim to improve the customer's trust in the products and to formally raise the TRL. First commercial flight opportunities are negotiated for both thrusters leading to in-orbit verification as an additional test step. Successful campaigns enable series production of both thrusters similar to the existing commercialisation efforts.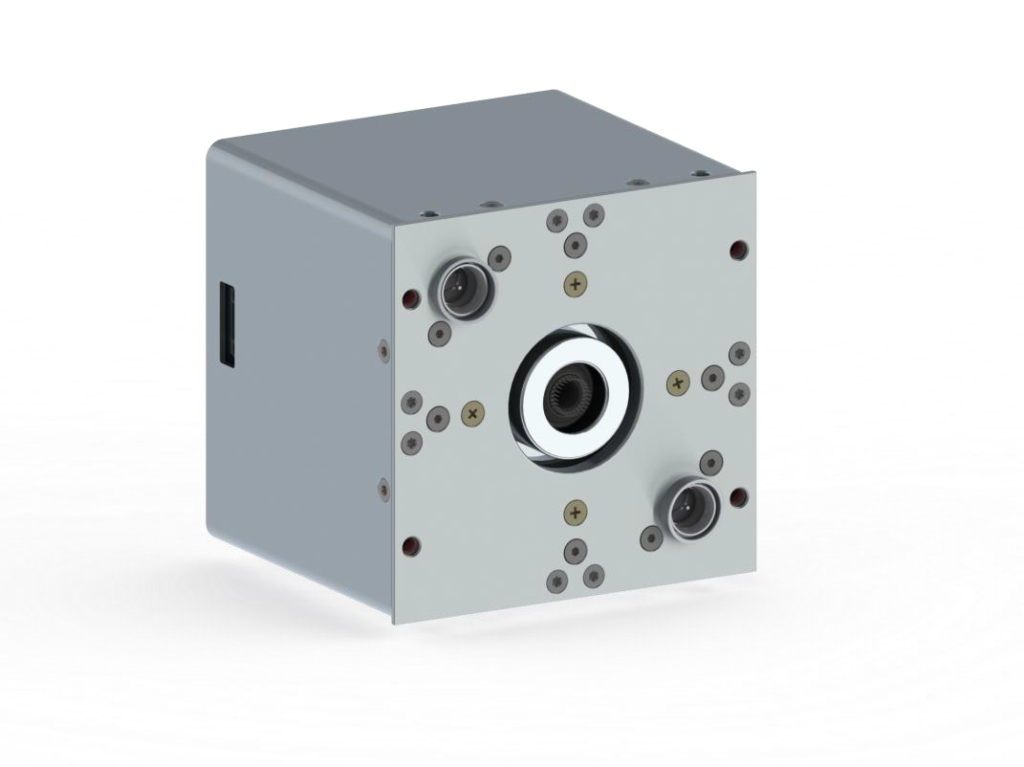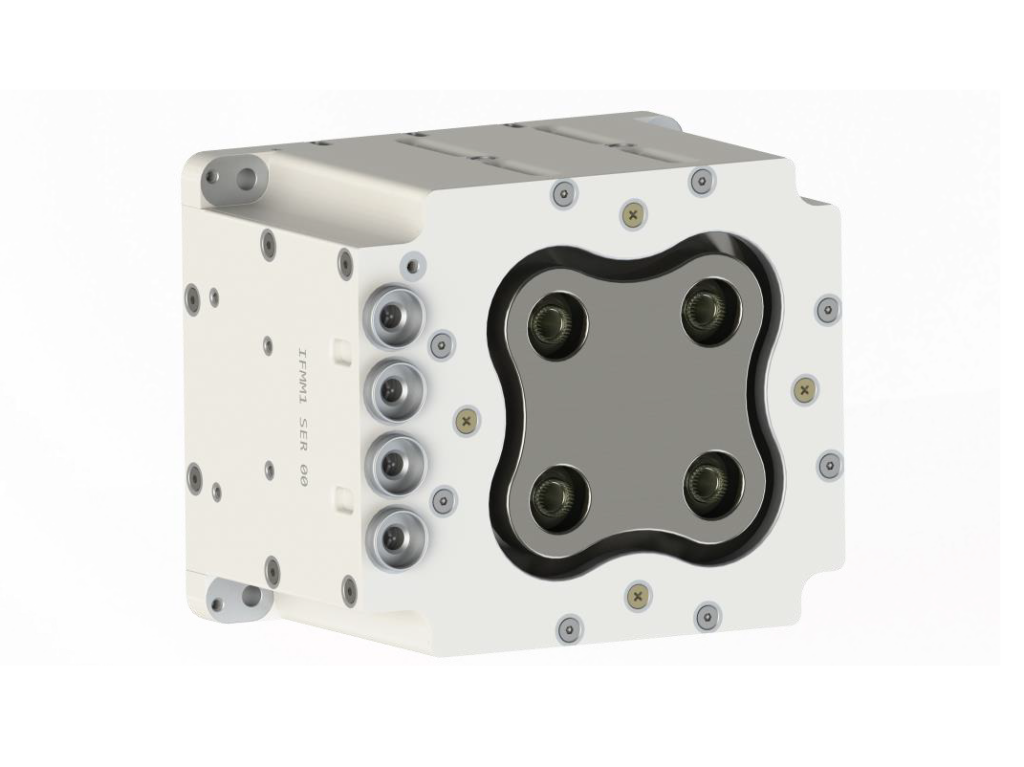 ---
Added Value
FEEP technology is based on solid propellant that is liquefied once in orbit. No pressurised propellant feed systems are required. This decreases the risks and complexity compared to other electric propulsion systems based on xenon, krypton, argon, or hydrogen. The high density of the used indium propellant as well as the high specific impulse inherit to FEEPs yields a compact solution for high total impulses. Reducing volume and mass allows for easier integration into S/Cs leading to decreased costs.
No propellant loading, purging, leak tests, etc. are required at integration level. This aids AIT scheduling and reduces workload. The consequent plug-and-play products are suitable and versatile for many constellation and small satellite applications including those used for EO.
---
Current status
A review of requirements and standards from customers has been conducted to determine the test spectrum, associated levels, and sequencing to plan qualification test campaigns. This is continually iterated with customers and agencies. Delta designs and analyses leading from the ENPULSION NANO to the ENPULSION NANO R³ (COTS+ variant) and the ENPULSION MICRO R³ have been concluded for the mechanical, thermal, and electrical aspects. Qualification models have been built for the thruster heads, and the PPU electronics are currently procured. Qualification test campaigns are intended to start following some preliminary verification tests.