Objectives of the Product
All satellites contain flight software, although almost all of them have an architecture where the hardware system is the foundation and the flight software is added to the satellite design at the end of the development as an afterthought. This makes the solution rigid, incapable of change and less "smart". On the contrary, software-defined products have software as the foundation of their architecture which provides a step change in the efficiency and flexibility of the product.
ReOrbit is building the ReOrbit Muon as a bundle which includes flight software together with avionics, to act as the backbone of the spacecraft. Similarly to what an operating system does for computers or smartphones, ReOrbit Muon enables customers to focus on the (Earth Obsevation – EO) application, without needing to care about the underlying layer that is the connection between the application and the satellite. The Muon bundle can be installed aboard any satellite, enabling a breadth of capabilities and therefore augmenting EO missions and beyond.
ReOrbit Muon is the heart of ReOrbit Gluon, which is a small satellite platform optimized for connectivity and autonomy. By combining the reliability-first approach of "traditional space" with the time-to-market, cost-effectiveness and innovation of NewSpace, ReOrbit can offer an attractive and powerful satellite platform to its customers. What is more, ReOrbit Muon includes a full digital twin: a digital replica of the Gluon platform, which allows customers to de-risk their capital expenditures at a very early stage of the mission, as well as train their operators and plan flight procedures.
---
Customers and their Needs
ReOrbit's main customers are satellite operators and satellite manufacturers serving communications and EO segments, although ReOrbit's mission-agnostic approach can be applied easily to most customer needs. ReOrbit is especially attractive to (EO) payloads that require fast and affordable access to orbit, and those with satellites approaching end-of-life within the next 2-3 years.
Indirectly, applications using satellites developed and operated by downstream customers benefit from more efficient data handling enabled by the ReOrbit satellite platform. ReOrbit minimizes the cost of data over time. Data companies dependent on space-produced data but with limited spacecraft expertise benefit from ReOrbit offering.
Customers can either purchase ReOrbit's flight software and avionics to be installed on top of their satellite platform as a bundle, or they can purchase the complete satellite platform with all required subsystems in place. In the Ukko activity, customers are involved in the product management feedback loop, so that the development matches their needs and thus the overall needs of the market with regards to flight software as well as mission and satellite simulation needs.
---
Targeted customer/users countries
ReOrbit's market is global, and global are our current customers as well.
---
Product description
ReOrbit Muon is a satellite flight software stack and avionics bundle, which can be seen as a set of services for the satellite. Similarly to what an operating system does for computers or smartphones, ReOrbit Muon enables customers to focus on the (EO) application, without needing to care about the underlying layer that is the connection between the application and the satellite. The different features of ReOrbit Muon, developed as separate libraries and modules, consolidate into an Application Protocol Interface (API) which interacts with the different (EO) payloads.
Based around Muon, ReOrbit Gluon is a complete satellite platform with all the subsystems in place to carry and operate a payload in orbit.
Muon & Gluon enable connecting several (EO) spacecraft together in coordinated constellations, capable of autonomous and synchronized work, coupled with seamless data flow inside and between the satellites and to ground segment.
Customers can either purchase Muon to be incorporated on their own satellite platform, or they can purchase Gluon as a full-fledged satellite platform. In addition, customers get the digital twin of the purchased hardware to a simulator provided by ReOrbit, which allows the customer to de-risk their mission, train their operators, test updates on the flight software configurations and plan procedures related to their mission.
The software and avionics stack is designed to ensure at least 2.5Gbps data flow across its architecture, and to autonomously perform corrective measures to guarantee a 95% uptime or system availability.
The product architecture of ReOrbit Muon, showcasing also the connectivity between different Muon-powered satellites, can be seen in the following image: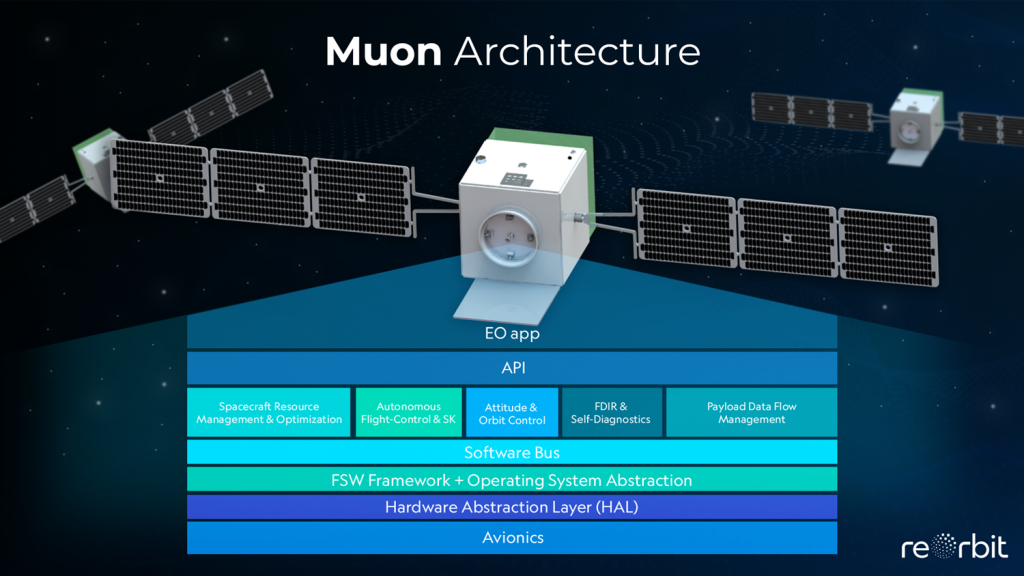 Payload data flow management module (PDFM) ensures that (EO) data is stored and transferred efficiently and error-free from multiple sources to multiple sinks within the architecture.
Attitude and determination control (ADCS) is designed to be actuator and sensor agnostic and allows operators to have a common set of control laws across their constellations, with the possibility of managing a diverse ecosystem of ADCS equipment and tailoring their needs according to mission requirements.
Failure Detection, Isolation and Recovery (FDIR) ensures that off-nominal conditions will not spread and escalate into mission-critical failures. The FDIR module contains self-diagnostics capabilities to flag long-time off nominal trends and perform automated corrective actions to increase uptime.
Autonomous Flight Control and Station Keeping module ensures spacecraft maintain orbital geometry with minimum use of humans in the loop.
API implements a request-response protocol all customers flying ReOrbit Muon can interact with from their own on-board computers to access to Ukko services. The API runs fully inside the Muon bundle.
---
Added Value
The core value for the customers comes from enabling a satellite that is flexible and configurable, reducing time-to-orbit, cost-to-orbit and operational costs. ReOrbit is able to achieve this by:
Integrating standardized and flight-proven satellite subsystems to reduce non-recurring engineering and lead time of the full satellite by means of adopting standard, modular form-factors and data interfaces
Incorporating 3rd party applications on top of the flight software with no increased operational risk
Offering fully automated operations and high fault tolerance, for increased satellite lifetime and less time required by mission managers for constellation monitoring and error handling
Offering in-orbit connectivity that enables higher data throughput and more efficient flow of data through interoperating and networking with other satellites
In addition, we increase the overall revenue for our customers by ensuring high availability of the satellite (optimizing uptime), by autonomous fault recovery, full on-orbit reflashability and reliable architecture which includes rapid switchovers and continuous data scrubbing.
---
Current Status
Ukko project kicked off in October 2022. As a first step, the plans for system level software design were developed and iterated. Based on that, the design of the individual software libraries and simulation environment is underway. In addition, work for implementation of library design into working software code has been initiated.
On the commercial side, customer and partner engagement continue to respond to the market need of "turn-key" flight control products to EO satellite operators, with very promising results so far. Business case is being developed further, product-market fit is being shaped and commercial readiness ramped up.
Ukko De-Risking phase ended in February 2023, and Product Development phase commences in March 2023.