Objectives of the Product
The Skymetry product is intended for large infrastructural and asset management companies, which face on the daily basis the necessity of granting the integrity, operativity and safety of both their infrastructures, utilities and operators.
Designed to help and guide environmental risk agencies in delicate decision-making processes, the Services which Skymetry intends to offer, also extend to all those municipalities in need of digital twin models to carry out urban planning activities along side with the monitoring of surrounding environment.
Despite the affordable costs, Satellite Imagery often faces intrinsic limitations when it comes to satisfying the technical requirements imposed by the engineering community. Limited spatial resolution, Static configuration of sensors or Inefficient data sharing among team members are fewer of the difficulties customers must face when carrying out their activities.
For the present reason Skymetry SaaS has been designed as a centralised cloud-based infrastructure set to enable end-to-end orchestration of the whole data gathering and processing chain, providing Customers with a self-service web-GIS interface. By placing georeferenced orders, Clients can demand the monitoring of their infrastructures, triggering a sequence of activities including aerial high-resolution inspections, using certified General Aviation aircrafts, data processing using AI algorithms, Satellite content integration alongside with analytical reports delivery.
---
Customers and their Needs
The Skymetry SaaS product is set to service three major Customer Segments:
Asset management operators for highway and railway infrastructures;
Water multi-utility vendors;
As Skymetry Corridor and Water services are designed to deliver high-precision 2D/3D mappings of linear envelopes monitoring furthermore rivers, basins and reservoirs enhancing leak detection activities, the clients needs become the key for the structuring of the monitoring activities. By acquiring the existing information related to infrastructures of highway, railways or water network companies (RFI, Tecne, IREN), and highlighting those areas requiring high resolution inspections with great revisitation rates, clients can access a user-friendly web-GIS interface and place an order.
Satellite data will then be integrated, covering the AOI with high revisitation rates. Through change detection algorithms, punctual aerial inspections will be triggered based on the results of interferometric analysis and alterations of the scene. With the present strategy, it is possible to keep linear envelopes constantly monitored minimizing times and costs of interventions. With the ambition of supporting Space payloads and nano-satellite OEMs, SkyGate services have been also integrated to test and validate de-risking programs in atmospheric conditions of low altitude satellites, prior to space launches.
---
Targeted customer/users countries
The target customers identified are the major Italian Highway, Railways and Hydroelectric network providers. However, the services are designed to be scalable on an international panorama.
---
Product description
There are two major Services being developed: the first one, identified as Skymetry
Services, is set to complement pre-existing limitations of satellite EO, operating as a magnifying lens for satellite technology; the second Service, SkyGate, instead supports space payload and nano-satellites OEMs both in their development and de-risking phases, prior to launch.
Skymetry Services have been conceived as a pay-per-use, web-based service offering a wide range of monitoring solutions focused on the needs of industries as transportation, energy and water infrastructures. The source of innovation resides in the capability merging EO-based change-detection satellites services with the execution of selective low-altitude aerial mapping missions ment to verify and analytically qualify the triggering phenomena which cause a variation of the infrastructure in time ("magnifying glass" effect). By boarding certified General Aviation aircrafts and mounting a wide range of sensors at a given time (RGB, SAR, Thermal) Skymetry may then gather, process and annotate the data delivering a complete end-product to customers via Web-GIS platforms.
While the Element of Innovation for Skymetry Water and Corridor results being the integration of high-repetition satellite interferometric data with high resolution RGB & SAR surveys carried out by aircrafts, SkyGate proposes the engineering of a process capable of testing in lower atmosphere low-end sensors/ satellites making this mechanism more accessible and economically sustainable.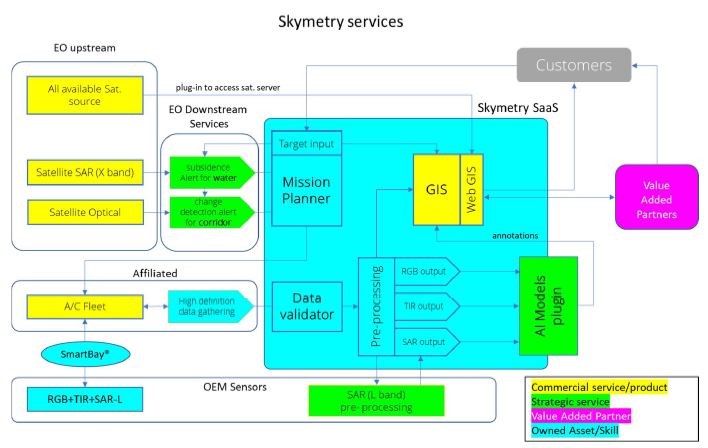 ---
Added Value
We strongly believe that Skymetry is capable of bringing major benefits to the end users of the platform. When compared to existing potential competitors, the system architecture has been deisgned to offer:
Secure WebGIS use interface available for Customers and Value-Added Partners (SW Pangea, GeneGIS) consenting to navigate 3D target area models (DSM, cloud points, orthomosaics), inspecting in detail the surveyed areas, keep a track of the evolution of the monitorings in time and consent the publication of annotations and objects which may be easily accessed and shared (dataset enrichment);
provides secure web-access to authorised 3rd-parties for self-service access (Customers and Value-Added Partners);
Capability of monitoring repeatedly in time linear infrastructures, tracking time history of events;
Use Satellite interferometry/Imagery as source for punctual inspection;
Large hourly production with greater spatial coverage than UAV technology but preserving high resolution level of details;
The Validation logic that DigiSky will implement for both Skymetry and SkyGate Services lies upon the execution of operational Proof-of-Values with end-customers fully representing all the addressed market segments (transportation infrastructures, water infrastructures, Space OEMs).
---
Current Status
DigiSky has been capable of obtaining noticeable achievements over the years. Having designed and certified the SmartBay technology, pylon which integrated aboard of General Aviation aircrafts, permits a fast interoperability among a wide range of commercial, high-end sensors, one of the major assets has been focusing on market segments which may be economically scalable, sustainable and challenging.
For instance, In the Solar Pannel monitoring segment, DigiSky operates with WeSii according to a mutual exclusivity at world-wide level: starting from the initial 1.5GW of installed capacity already jointly processed in Italy in 2021, we (DigiSky and WeSii) are strategically and jointly planning to process 6.0GW in Europe by end of 2022 and start operations in USA and Latam by the end of 2022, with the aim to reach together a 11-16% market share, at global level.