Objectives of the Product
BODIS offers long term accurate predictions of monetary risks affecting buildings and engineering structures resulting from subsidence and flooding in floodplains, in light of uncertainty of future climate change effects. We offer this service per building or per engineering structure for owners and financial stakeholders of these buildings and structures.
BODIS contains a surface motion service built upon InSAR data combined with an state-of-the-art flood risk service built upon models for flooding, drought, and climate change. Changing patterns either in climate (droughts, precipitation) and subsidence are assessed continuously and are put into updated models and high accuracy forward looking statements about future flooding and subsidence. Given the very high density of InSAR measurements, we are able to assess dynamics and calculate Value At Risk per building and per engineering structure.
The BODIS consortium translates these forward prediction algorithms into economic impact. These techniques create an information service that makes accurate long term risk information available in a visualisation platform, for direct usage in further analysis and an API driven service setup. BODIS offers these services via subscription plans, with a pricing model based on contextual data of assets and location.
---
Customers and their Needs
Housing corporations – organizations that let or sell accomodations and homes to low income citizens, older people or people with disabilities:

Be able to predict the schedule of the maintenance of their assets
To control financial situation of the asset portfolio to be sustainable over time
To make use of digital innovation and data driven applications to streamline their activities

Insurance companies – risk assessment organizations:

Inaccuracies assessing future costs of climate change, typically resulting in an underestimation of the associated risk
Difficulty validating their models without real data

Banking entities – owners of the largest volume of real state assets:

Information about financial risks for their assets. Now the involved risks based on very coarse datasets resulting in underestimation of long term risk
Current methods used are history-based, not data-based

Water boards – regional governing organizations managing the surface water in their control area:

Understanding the relation between adaptation measures and land subsidence, e.g. what is the effect of land motion on flood zones in different climate scenarios

Urban planners – in charge of describing the spatial plans and direct urban development:

To ensure the spatial planning framework providing a safe environment for people and businesses, including adaptation to climate change
---
Target customers/users countries
Initially The Netherlands, scalable to other countries by the end of the project.
---
Product Description
BODIS consists of a front-end platform in which users have access to subsidence and flooding Value at Risk and risk profiling information of their assets. The main components:

the SAR observations that are used to provide surface motion and subsidence estimates. These estimates are improved by integrating in-situ information,
forward predicting algorithms to estimate future subsidence risks of the targeted assets,
flooding and climate risk models to make flood simulations including subsidence estimates and process floof simulations into asset risks,
a user-friendly web platform based on HydroNET, where users can access the information BODIS offers, as well as API modules to integrate these results into their own systems,
a component dedicated to the development of intelligence services for every use-case, to facilitate understanding and applicability of the information offered. These includes the generation of maps, model application and making the information available and digestible regarding subsidence and flooding.
The role of the service in the context of the overall service of its target users is none; it is a stand-alone information service.
BODIS has five major modules:
Precise Asset Movement
Asset Movement Forecasting
Asset Movement Risk
Flood simulation and Asset flood risk assessment
Data storage, processing and front end application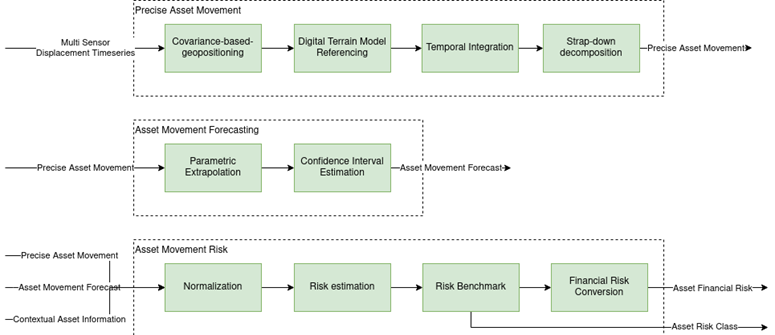 ---
Added Value
Many governments, institutes and businesses are adapting to the effects of climate change-induced sea level rise and soil subsidence. Insurance companies and risk assessment organizations use their own tools and data sets to create their risks models and offer them to their clients.  These tools present several short-comings that BODIS aims to solve:
They do not use subsidence information for their risks assessment
They do not offer information at asset level, only at regional and/or large area level
Their information is spatially coarse, lacking location precision
The information offered by these services is model-based
They do not provide monetary related value of risk (VAR)
The areas of innovations where BODIS differentiate itself from the existing services are:
Subsidence and soil motion risk
Forecasting long term precise asset movement
Integration of simulations with asset displacement predictions and climate risk models
Calculating asset risk VAR and depreciation
HydroNET, a data-based information system
BODIS is  the only risk model plus product to include this cycle: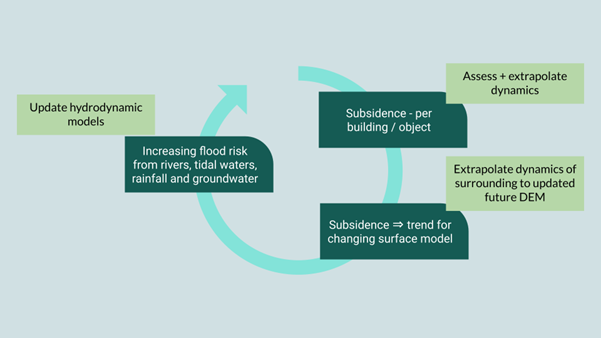 Including climate change: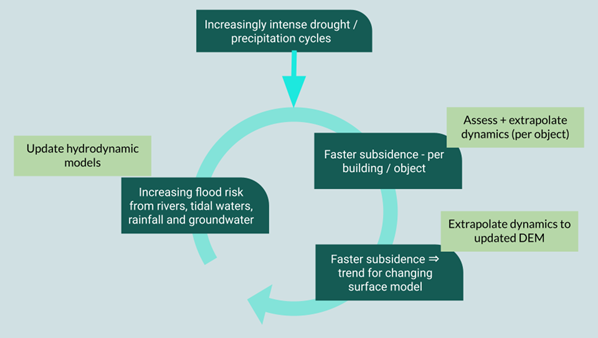 BODIS is the only risk model plus product to include this cycle:
periodically gets new external data to,
periodically re-assess our extrapolations and flood modelling,
periodically translates to updated, increased risk for buildings and structures in economic terms.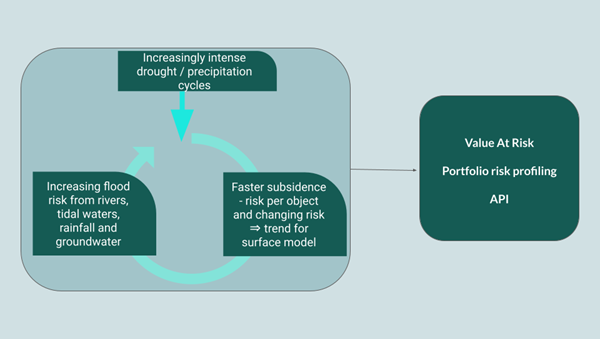 ---
Current Status
BODIS is a development, integration, and customization of the existing systems: SkyGeo Antares processing services, 3Di and Hydronet. Every product exists in the market, successfully providing different services in the water management, spatial planning, and subsidence markets.
The BODIS project started in 2019 through an innovation call (SBIR) made by the Dutch national space agency (NSO). It resulted in a prototype for a subsidence information service that integrated the knowledge and technologies of SkyGeo, N&S and HydroLogic. The first prototype was focused on gridded subsidence information on soft soils. BODIS 2.0 moves towards a tailored service focussing on asset subsidence information. The architecture of the service is inherited from the BODIS 1.0 prototype.
Systems to be developed:
Forecasting long term precise asset movement
Integration of simulations with asset displacement predictions and climate risk models
VAR and asset depreciation calculation
HydroNET information platform implementation and launch