Objectives of the Product
Satellite connection to additional ground station networks requires high integration costs regarding time, personnel and licenses. The market is fragmented in terms of providers, locations and legal issues and due to that real time radio communication with satellites is still impossible. At the same time, some ground stations are staying underutilized and integration with satellites is complicated in general.
Features of the Aggregated Marketplace for Ground Station Services:
Cross network connectivity
Aggregation of services and prices from different providers
Contact management and contact booking via different ground stations
Optimisation of bookings according to different criteria
Unified UI for the above-mentioned features
Vision: near real-time satellite communication capability
Gains for satellite operators:
Pre-integration with various ground station networks (shorter integration time)
More communication sessions between the Earth and satellites within the same mission budget
One gateway of booking and scheduling contacts with satellites using combined network of ground stations
Lower latency (potentially up to 24/7 radio coverage)
A marketplace to purchase ground station services (higher competition, lower costs)
Gains for ground stations:
Extra sales channel
Increased efficiency (reduced integration costs) • Pre-integration to mission control platform
---
Customers and their Needs
The Marketplace customers are satellite operators, incl.
commercial operators (EO, broadband),
public operators (space agencies) and
academic and research institutions (Universities).
Their needs are related with
lower costs,
reliable infrastructure,
low latency,
simple usage.
Aggregation of services. The Marketplace solution enables satellite operators with reliable infrastructure – many ground station service providers are made available on one single platform, incl:
pre-integration with different networks,
cross-network connectivity,
evaluation according to different criteria (ground station provider, antenna location, price etc).
Lower costs. Since there is only one integration with Spaceit's solution required to get access to different providers, the overall costs will decrease due to decreasing integration costs, later price competition and freedom to choose and shop across different options.
Lower latency. One integration to gain access to different ground stations, using services across providers, could enable near 24/7 coverage with satellites.
Simple usage. Spaceit's solution provides a user friendly modern UI/UX and managed cloud-based service.
Innovative solutions to advance the industry. The new solution makes the utilization of established ground infrastructure, lower prices, and increased usage for end-users possible.
---
Targeted customer/users countries
Worldwide
---
Product description
The role of the product in the context of the overall system of its target users is to provide a satellite operation platform using ground station services from available providers according to constraints set by the user.
MCS frontend is a single page web application. Additional views, controls and dashboard widgets on the frontend to enable end user interaction with the ground station marketplace functionality.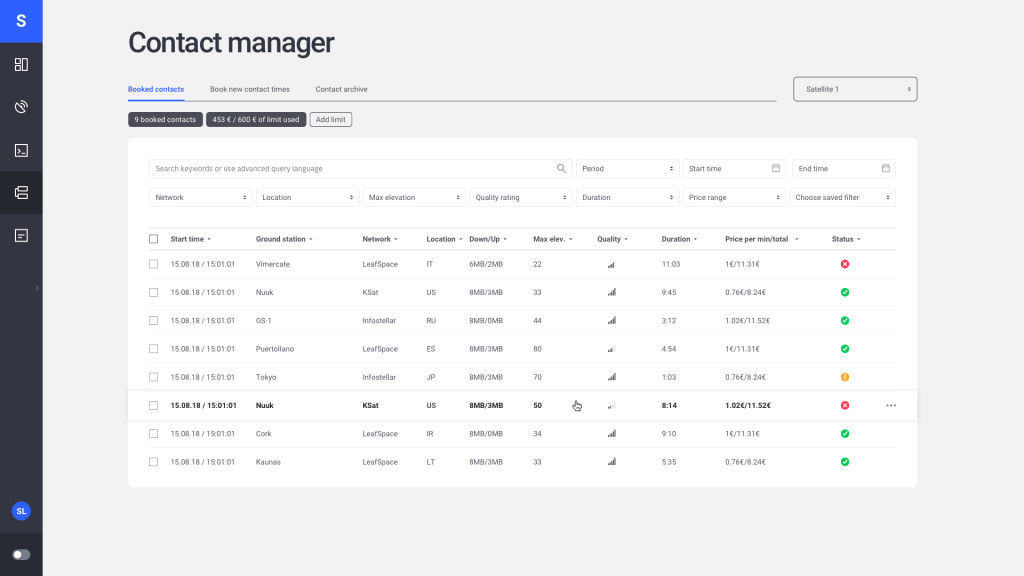 ---
Added Value
Currently there is a shortage of single one-point-of-entry ground communication solutions which are integrated with different ground station networks. The closest ones are virtual networks, which combine different stand-alone ground stations not networks and they do not have mission control nor satellite operations simulations capabilities as Marketplace has.
Spaceit's solution brings together satellite operators and ground station networks in a one unified platform. It aggregates both virtual and physical networks and creates a unified ecosystem for ground station services. It allows booking and managing contacts and communicating with satellites in one environment.
---
Current Status
Kick-off of the project was on 9th of December 2021. It will follow agile development of the Marketplace. In parallel, different business development activities will be carried out (negotiations, agreements with partners and customers). It is planned to finish with the Activity by the end of 2022.
The next progress meeting is planned on March 2022.