Objectives of the Product
Spire aims at leveraging the latest improvements in the field of signals intelligence and the existing high-performance computing devices onboard its LEMUR constellation to develop processing algorithms enabling the geolocation of radio frequency (RF) signals.
These software-based solutions will be deployed and tested on Spire's satellites. They will also include ground-based infrastructure for a low-latency reporting of detected discrepancies.
Once they are demonstrated and operationalized, the resulting datasets will be made available through our existing API or a dedicated data feed. It will enable Spire customers to confirm the accuracy and the validity of the geolocation information broadcasted by a given asset. The solution will be completed by an alerting system that will identify and highlight suspicious behaviors. In turn, this will enable them to optimize their operations (e.g., maritime domain surveillance, environmental protection, ship insurance, etc.) based on this information, resulting in lower operational costs and higher operational efficiency.
---
Customers and their Needs
The main customer segments target by this activity are the following:
Law Enforcement Agencies / Anti-Piracy Maritime Security and Sanctions Enforcement / Coast Guards: Perpetrators of illicit activities, notably at sea, will typically spoof or manipulate the AIS or ADS-B tracking system, causing an asset to appear in a different location than it actually is.
Environnemental agencies: Overfishing occurs often in areas beyond national jurisdiction. It threatens marine ecosystems and is linked to major human rights violations and even organised crime. Protected-area designations are almost meaningless unless they are backed up by effective surveillance and enforcement.
Shipowners and operators: Shipowners and operators are facing increased regulation under OFAC and OFSI, which they must comply with to avoid being sanctioned and facing heavy fines. They must also ensure that their suppliers and customers comply with the rules.
Air Navigation Service Providers: More and more geographical areas might be impacted by GNSS jamming and spoofing that could negatively impact air traffic operations.

Loss of ability to use GNSS for waypoint navigation

Loss of area navigation (RNAV) approach capability

Inability to conduct or maintain Required Navigation Performance (RNP) operations
Potential airspace infringements and/or route deviations due to GNSS degradation.
---
Target customers/users countries
This Service addresses customers throughout the world.
---
Product description
Spire proposes the innovative development and implementation of a suite of RF geolocation methods onboard its constellation of nanosatellites.
Spire owns and operates the largest constellation of multipurpose nanosatellites, with a unique capacity of running high-performance computing frameworks in orbit that will be used to quickly deliver this geolocation capacity, strengthening its global offering with an independent source of geolocation data.
Beyond the innovativeness of the very techniques used for signals geolocation, which will be adapted for their application in orbit, the proposed developments will create a unique infrastructure. Indeed, the newly developed signal geolocation solution will be ported on an existing constellation of satellites, rather than dedicated formation flying satellites.
This will lead to the commercialization of a unique, highly competitive one-stop-shop solution enabling global and regional analytics of RF signals, that would benefit in the future from an alerting system to highlight any suspicious event. Spire would be the only player collecting and offering RF signal-derived information in an integrated manner.
It should be noted that Spire is the first organisation to have demonstrated that nanosatellites can track global maritime and aerial activity in real time. The collection of AIS, ADS-B, and other RF signals along with its unique constellation puts Spire in a position of strength to train robust and efficient AI/ML-based geolocation models enabling near-real-time monitoring and alerting of suspicious behaviours.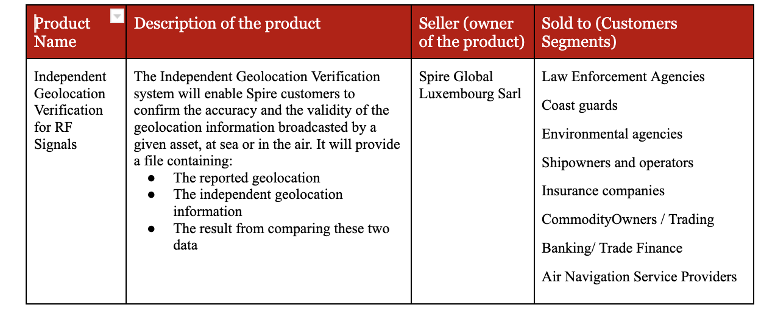 ---
Added value
To date, few small satellite RF geolocation missions have been attempted. The SAMSON mission, supported by the Israeli space industries, (P. Gurfil et al., 2012), was originally planned to be launched in 2018 but has been delayed since then. That same year, a first mission was conducted by HawkEye 360 Inc. In January 2021, they announced that their second cluster of three small satellites had been deployed into orbit, opening the idea that such technology is feasible, but still using small satellites (about 30 x 30 x 45 cm) (HawkEye 360, 2021), leaving the path to nanosatellite and CubeSats missions still unexplored. The Pathfinder mission is undoubtedly a high-performance system, but with it comes high costs. In addition, it relies on propulsion systems to maintain its cluster together. On a similar note, since 2020, Kleos Space and Unseenlabs have been competing for the RF reconnaissance market providing maritime situational awareness only. Taking advantage of our experience, Spire has the ability to rapidly provide a cost-efficient and less complex system that addresses the needs for RF signals geolocation with the right compromise on refresh rate and sensitivity. In addition, Spire's existing infrastructure offers a quick and easy path to scalability, from demonstration to an operable system in a short time.
---
Current Status
All the hardware and software licences for the on-orbit deployment of existing methods have been procured and set up. The ground-based algorithm has been successfully ported to a virtual environment. An initial standalone test was also successfully completed for both environments.
---