Objectives of the Product
EO-WIDGET is a modern fully cloud-based, highly automatized offering of Web-based information services utilizing high-frequency satellite Earth observation (EO) data supplies, which CAP Paying Agencies can integrate into their Integrated Administration and Control System (IACS) set-ups to achieve individual implementations of the Checks by Monitoring (CbM), and Area Monitoring System (AMS) respectively, customized to local needs and for operations based on Service Level Agreements (SLAs).
The EO-WIDGET project carries further Sen4CAP prototyping efforts and algorithm developments based on Copernicus Sentinel EO data input into operational service provisioning via provider-managed Application Programming Interfaces (APIs). Through the APIs, a well-defined portfolio of ready-made monitoring data products is made accessible. For the consumers, this makes the need for managing very large EO data repositories and setting up of complicated processing chains a story of the past.
The monitoring data products are specified according to processing levels and are aimed to be established as de-facto standards within the domain, covering the EO derived input for all relevant use cases included in CAP and environment monitoring practices.
Furthermore, interactive, and graphical user interface elements, so-called "widgets", are offered as Open Source Software supposed to be bundled, customized, and configured by service providers into customer-facing Web Applications (Apps). An Expert Judgement App (Parcel Explorer; Quality Assessment Tool) is provided as white label software templates for enhancing productivity of value-adders (Paying Agency contractors, value-adding resellers, farm advisors).
Also, a cloud-based data management platform is established as a service for secured, interoperable exchange and staging of the LPIS and GSAA data which are data required in the generation of the monitoring data products and in the widgets for their visualization. Additionally, EO data stemming from commercial sources (Planet Fusion products) are managed on the platform and assimilated into the monitoring data processing selectively (optimizing cost to customers), e.g., for coping with the "small parcel issue".
---
Customers and their Needs
The EO-WIDGET initiative targets three main Customer Segments clearly differentiated according to their use of the EO-WIDGET System:
Customer Segment 1 CAP Paying Agencies (PAs): In the near future, PAs have to phase-in information management tasks of unprecedented complexity involving multiple-orders-of-magnitude larger Earth observation (EO) satellite data volumes to fulfill their reporting obligations (e.g. CAP). This clearly positions the PAs as the main Customer Segment for EO-WIDGET Services
Customer Segment 2 Other Agencies: A number of governmental organizations other than the PAs have similar and increasing needs of EO services for monitoring and reporting purposes: Environmental Agencies (EAs), public sectorial departments (Water, Forest, Agriculture, Urban Affairs, etc.) and the EU Court of Auditors.
Customer Segment 3 Advisors: Farm Advisors assist farmers in improving agronomic performance while reducing fertilizers cost and environmental impact. They also provide support in coping with the increasing digital requirements imposed on farmers by Farm Information Systems (FIS), and PA reporting systems.
The largest impact is expected with European Paying Agencies given the window of opportunity that arises from a legislation that requires each Member State to setup a system to continuously monitor all agricultural parcel by 2023.
---
Targeted customer/users countries
Global
---
Product description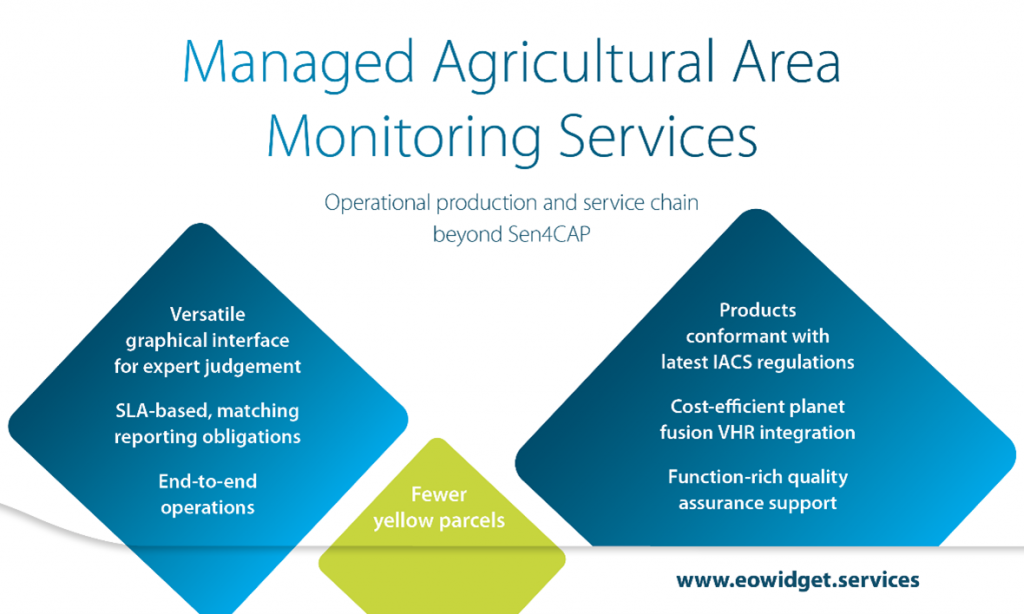 The consortium operates and offers a set of EO-based Monitoring Products, compliant with the latest IACS and CAP regulations, rich quality assurance support within an SLA-based IT Cloud environment. The products are visualized in a versatile graphical user interface and are customized to match the local requirements of each customer.
A cost-efficient integration of VHR data and sound methods lead to a significant decrease of so-called inconclusive (yellow-marked within a commonly-used traffic light system) in comparison to previous solutions.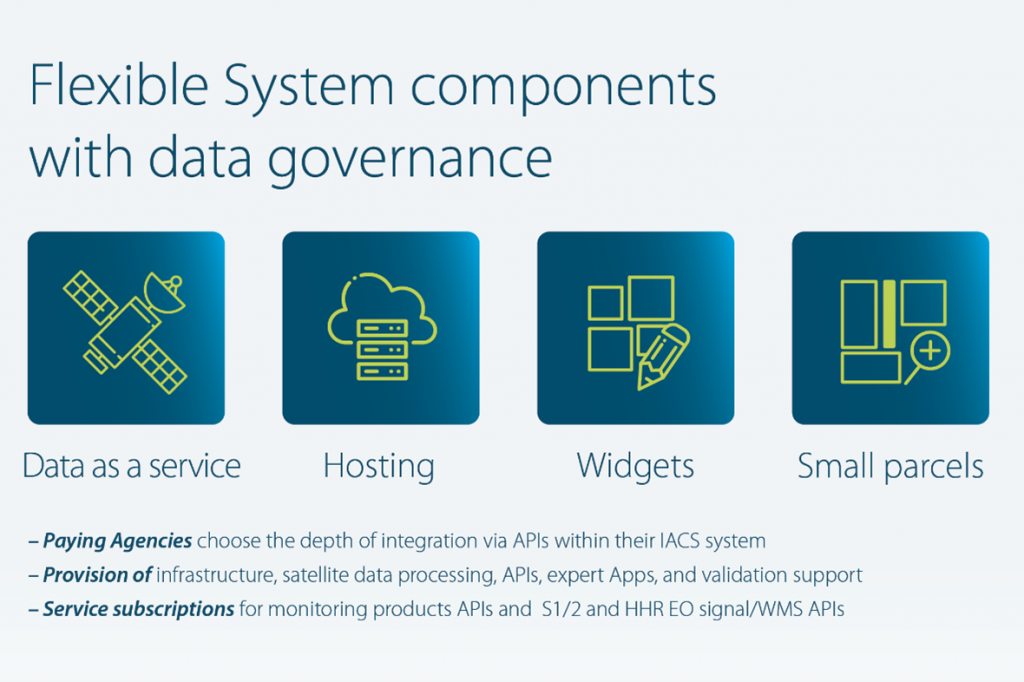 Data as a Service: On-demand Managed Services are provided for:
EO satellite data discovery & ingestion
pre-processing
generation of signal-based monitoring products
wall-to-wall, whole season, coverage
Widgets: mini-applications are available for:
visualization of monitoring products (expert judgment)
quality assessments
building of Web Apps
re-use (open source software) and customization
Hosting: Protected cloud workspace is offered – individualized per Paying Agency for:
deployment of Apps & tools
storing of declaration data; configurations; and monitoring products
Small parcel analysis: Cost-efficient VHR integration
based on Planet Fusion data
dedicated pricing scheme
integrated into product workflow.
Credit: EO-WIDGET Consortium
---
Added Value
Currently only standalone solutions, which are not scalable nor open to new developments, are available on the market. These solutions are exclusively targeting directly the end-users. So far, no supplier has been focusing on the needs of the ICT industry servicing already public end-users and the related provision of a 'user centred' service concept. In EO-WIDGET available services are being integrated, thus keeping the value chain open to new solutions offering flexibility and scalability. The EO-WIDGET initiative provides for the first time in the EO industry a service concept to specialized ICT providers, where end-users may access the benefits of operational EO data services within simple to embed widgets.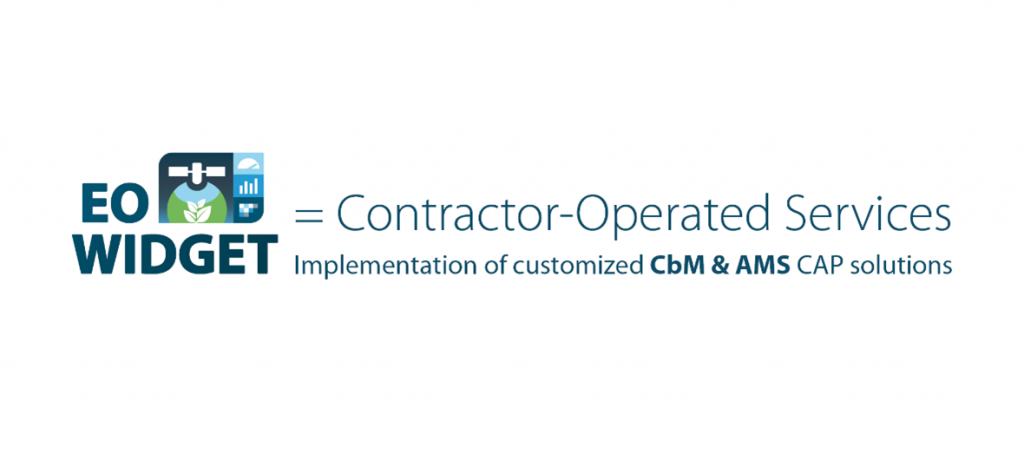 EO.WIDGET offers the effective implementation, integration and operations of Checks-by-Monitoring and Area Monitoring System as a contractor-operated service to European Paying Agencies and their incumbent contractors.
The EO-WIDGET consortium addressed all technical challenges and is now ready to serve Paying Agencies throughout Europe with a clearly defined set of tested and validated monitoring products, corresponding quality reports in an IT cloud setup that matches all required security standards and is still flexible to match local needs.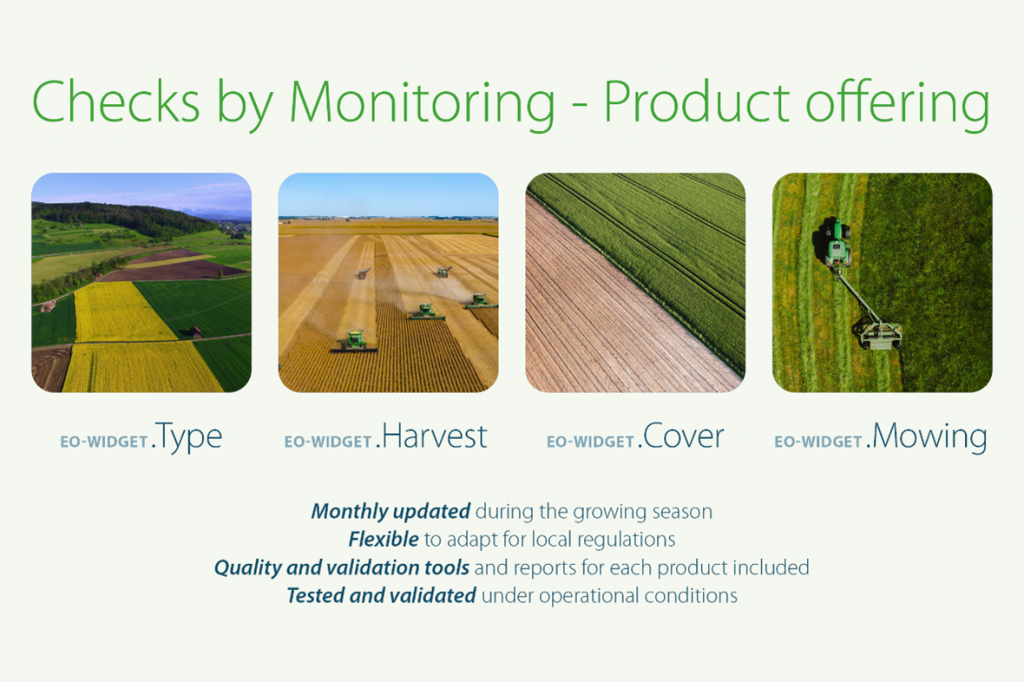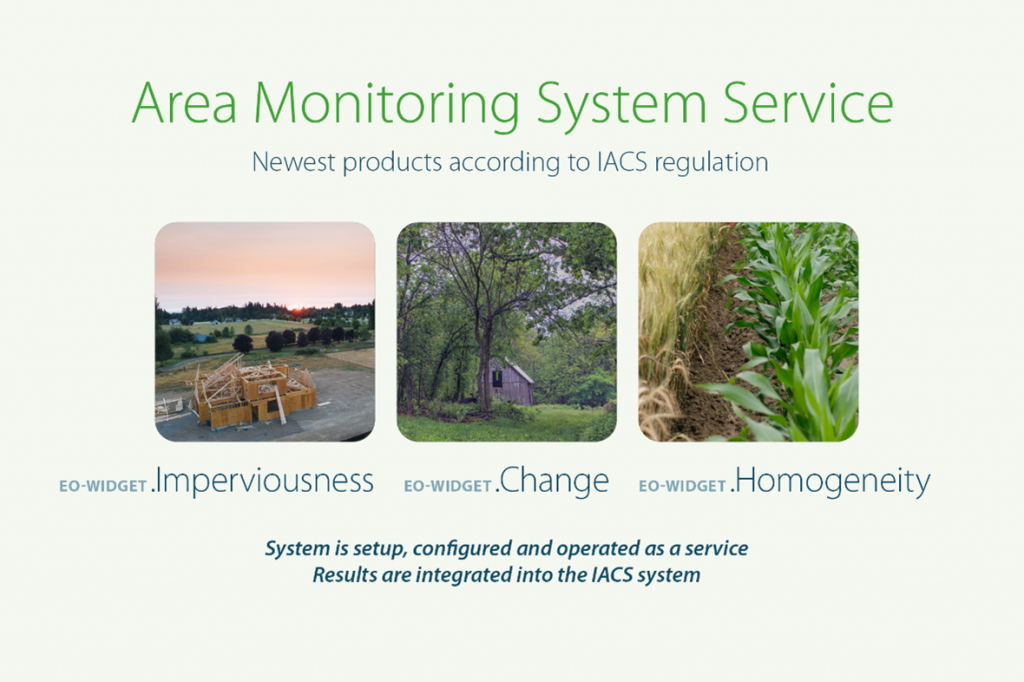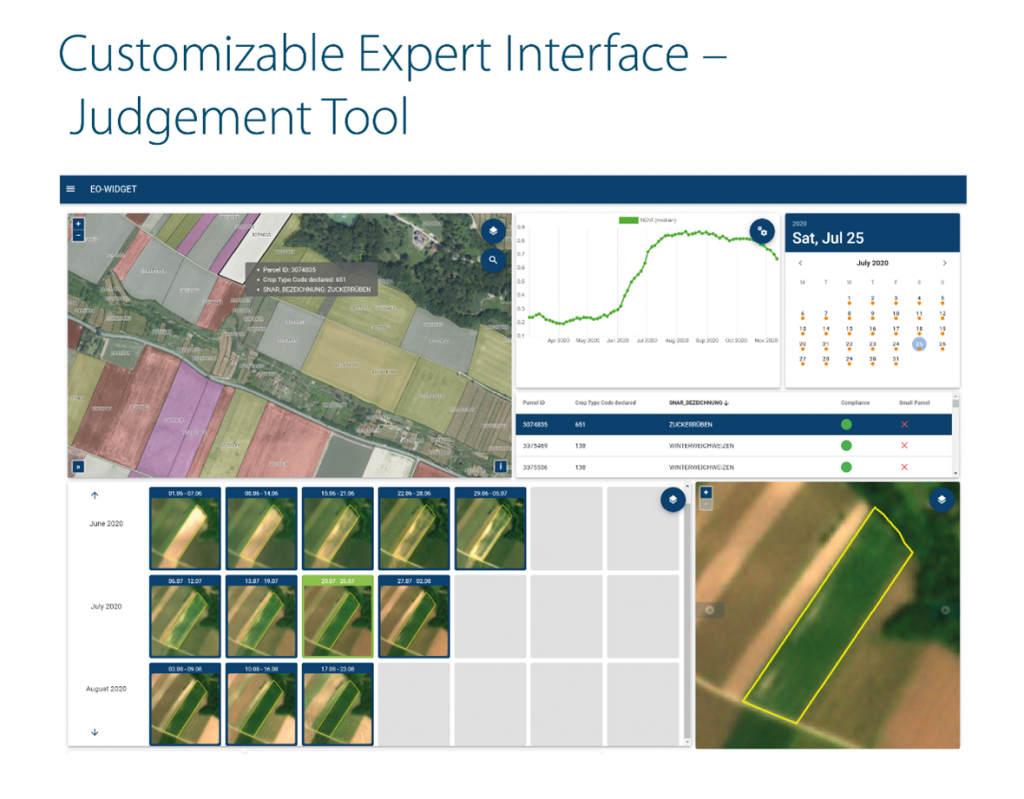 ---
Current Status
The activity is closed with December 2022 and is now continuing as an operational service and expanding into the market and participating in relevant public tenders.