Objectives of the Product
The human-centric approach to satellite operations gives rise to significant inefficiencies. Latency, limited communication windows, and expensive downlinks represent bottlenecks detrimental to the mission's effectiveness.
To address these problems, AIKO has developed orbital_OLIVER, an onboard automation software package that augments the spacecraft performance, and reduces mission operating costs, to ultimately open up new opportunities in the use of space.
orbital_OLIVER analyzes data from the satellite and its operational environment to devise and execute a dynamic schedule of tasks. Therefore, autonomous enabled capabilities provide satellites with the ability to perceive and react to unexpected events, lowering operational costs and improving the quality of delivered services.
---
Customers and their Needs
The customers of orbital_OLIVER are spacecraft manufacturers and operators. Their needs include:
Optimizing the use of in-space and on-ground resources
Increasing the quality of services or products to become more competitive
Reducing operations' costs
Overcoming bottlenecks from human in the loop approaches
Responding rapidly to unexpected events
Increasing the satellite lifespan.
---
Targeted customer/users countries
AIKO targets satellite manufacturers and operators across the world.
---
Product description
orbital_OLIVER is a software package that enables in-space mission autonomy for satellites.
To make decisions autonomously, orbital_OLIVER exploits event detection and pattern recognition technologies applied to payload and telemetry data.
The software abstracts a simple cognitive architecture from complex space systems, providing satellites with the ability:
To sense the environment and its status (through onboard data processing);
To plan tasks according to acquired or inferred knowledge and update the mission schedule (operations planning)
To execute tasks according to the updated mission schedule (dispatching).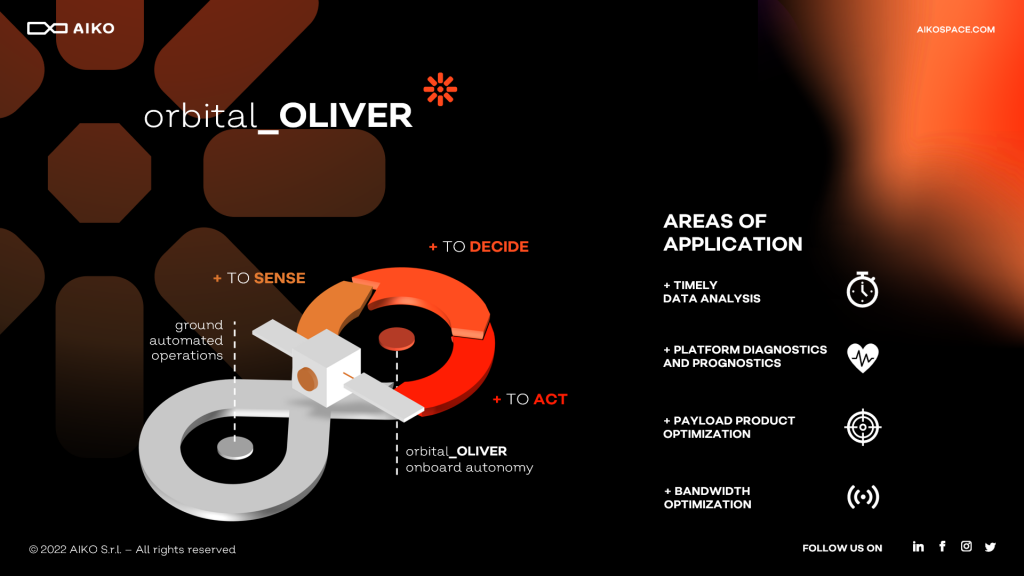 The orbital_OLIVER core libraries have been successfully tested for x86-64 and ARM computing architectures. Moreover, processing modules are compatible with a wide range of hardware accelerators (including Intel Myriad, Google Coral, and Nvidia Jetson), resulting in several key advantages:
Reduced inference time on the deep learning model
Reduced workload on the CPU
Optimized power consumption.
---
Added Value
orbital_OLIVER enables autonomous operations on satellites, overcoming the limitations of human-centric spacecraft operations. The independence from ground control paves the way for benefits such as reducing mission operating costs, increased activity lifespan, and optimized use of resources.

orbital_OLIVER will also become the pillar for logistical scalability of novel constellation architectures, in which hundreds or even thousands of satellites will operate collaboratively to reach mission goals.
---
Current Status
Officially started in May 2021, the InCubed program is set to last two years. In this timeframe, AIKO intends to improve the technical soundness of orbital_OLIVER by testing it in real operational scenarios and gaining flight hours.
For this endeavour, AIKO is running the Early Adopters Program (EAP) to grant selected partners with early technological access to orbital_OLIVER, ensuring compatibility of the product with the needs of potential customers.
AIKO is leveraging the InCubed development resources:
To complete the product development roadmap, prepare it for commercial exploitation and bring orbital_OLIVER from a TRL (Technology Readiness Level) of 6 to a TRL of 9 by 2023
To conduct required qualification and testing campaigns
To acquire flight hours and training data in diverse scenarios to optimize the machine learning models
To verify and validate the product on the use cases identified during the EAP.
Most recently, AIKO has started commercializing orbital_OLIVER, rebranding its original name MiRAGE (Mission Replanning through Autonomous Goal gEneration) and updating the product description.